A day of getting lost in translation began with the press conference for The Secret Of Their Eyes. Interestingly, the book on which it is based is called The Question In Her Eyes - but the ambiguity they've built into the film title perfectly suits its maelstrom of emotions. The press conference was attended by Juan José Campanella, Ricardo Darín, Soldedad Villamil and Javier Godino.
From the slew of questions from the floor, it's soon clear I'm not the only one who thinks the film is terrific. Even if it doesn't win here, I'm sure it will be picking up a host of awards elsewhere. One of Campanella's central themes is 'passion'. Early on, one character says that you can change everything in your life except your 'passion' (his, as it happens, is drink). Ricardo Darín is asked what his personal passion is and he rather sweetly contends that it is his family and "good intentions, that move me more and more".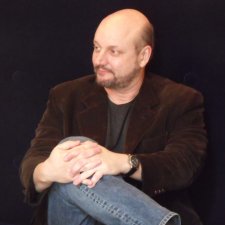 There was also a really sweet question from a youngster, wanting advice because they want to be an actor, answered with good grace by Darín, who tells them to look inside themselves and make sure it's what they really want to do. He says nothing of praying for luck, but I guess that sort of reality check will come later.
Skipping out of the conference early, I head for a screening of This Is Love, which, despite the English title, is a German film. It has a double storyline. The first part focuses on Chris and his relationship with a girl who he has 'rescued' from human traffickers. When we meet him, he has been accused of killing a man. The second section of the plot concerns Maggie, the dipsomaniac police officer charged with questioning him to find out where and if he has stashed the girl.
Despite sounding intriguing and featuring a good performance by Jens Albinus, the film suffers from structural and character problems. The two halves of the plot are too complex, so they fight with one another for screentime and attention. Because the subjects are so disparate, it is all too easy to see the join. There are also some treacherous looking plotholes that threaten to swallow all credibility, such as how on earth an alcoholic cop would be allowed to interview a man while falling-down drunk and, more importantly, why it is that the trafficking mafia, which director Matthias Glasner makes so much of in the early reels, are ditched unceremoniously from the story part way through? I'm curious as to how the director settled on the subject matter and am interviewing him tomorrow, so will ask. This Is Love did contain my favourite script line of the day, however: "Reality is an illusion created by lack of alcohol."
The second film of the day - The White Ribbon (Das Weisse Band) also had a distinct lost in translation feel, due to the fact that I was watching it with a "simultaneous English translation". Basically, this involves wearing headphones and, as the film runs with Spanish subtitles, a woman tells you what is being said. It's a very schizophrenic way to watch a film. As the German kicks in, the schoolgirl in me tries to decode it, while the part of my brain concerned with more recent Spanish nightclasses attempts to unravel the subtitles. Meanwhile, the soothing voice of a woman, who seems to be neither German nor English - and has some serious problems with translating herself in places - whispers the dialogue in English over the headphones.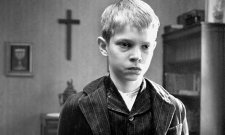 That I still enjoy The White Ribbon is testimony to some beautiful direction, although I think I'll have to put a note on the review, since I'm certain, deep down, watching a film that way can't help but colour your judgement. It is certainly a curious tale and quite a sterile one, although I suspect that is probably Michael Haneke's point.
I exit the cinema to retrieve my press pass - handed in as exchange for the translation headset - only to find that someone has stolen it. Oh, the fun of attempting to find out how you will get a new one in broken Castillian! Still, I'm wondering if whoever took it is seeing some good films on my behalf.
A brief meet up with some of the other British press in town before catching a late screening of The Dancer And The Thief (El Baile De La Victoria), the latest from Fernando (Belle Epoque) Trueba and the second at the festival starring Ricardo Darin. It's a frustrating film, featuring some beautiful scenes but, like This Is Love, it's marred by an overcomplicated plot. The basic story is of a well-known crook (Darin) getting early release from jail and finding himself courted by a younger ex-con who has plans for a big heist and for revenge. Into their lives dances the beautiful but mute Victoria, which sees them take on a joint quest to make her famous.
As plot off-shoot follows plot-offshoot, the number of protagonists involved begins to kill the atmosphere as the characterisation fails to take root, plus the heist story and ballerina narrative make uneasy screenfellows.
Still, there are pleasures to be had here, both in terms of the witty script and the framing of the action and the performances are nicely pitched, although Miranda Bodenhöfer is rather 'silent cinema' broad in the role of Victoria.
Tomorrow brings the promise of Host director Bong Joon-ho's Mother, plus a film I've been curious to see for weeks - British director Tom Harper's The Scouting Book For Boys. I'm also hoping to catch Robert Duval and Bill Murray in American cinematographer Aaron Schneider's full feature debut Get Low. At least I shouldn't have any problems understanding that.
Share this with others on...