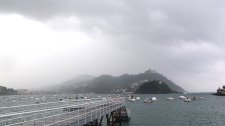 As a critic, coming to a film festival always makes you feel a little bit like a kid who got given the keys to a sweetshop. So much choice - films you just know are going to be your favourites and some that will, unfortunately, turn out to be the cinematic equivalent of the coffee-flavoured Revel.
Coming to San Sebastian for the first time this year also feels like getting access to a brand new shop - since they layout is all new to me and just begging to be explored. When it comes to the stuff on the big screen, there's a pretty broad and - on paper at least - strong and varied selection. Among the films showing are Francois Ozon's Le Refuge, Woody Allen's Whatever Works, Atom Egoyan's Chloe and Christophe Honore's Making Plans For Lena. Mixed in with this are several festival 'veterans' including Cary Fukunaga's award-winning Sin Nombre, Lee Daniels' Precious and Tom DiCillo's When You're Strange.
Off the screen, I am beginning to wonder if my travels shouldn't be sponsored by the Met Office. If it's not the extreme cold of Utah it seems I am destined to do my viewing in the rain. And what rain it was, the bouncing, dancing sort that takes on a life of its own when it hits the pavement, reinventing itself as a sort of upward shower and lingering in pools just waiting to be tossed over you by a passing bus. Fortunately, all the cinemas include clever machines with plastic bags for your brolly, so although you may have to steam gently throughout a screening, at least you aren't wiping your leg against a soggy umbrella. And if the audience were steaming as they dried out in the press screening of Atom Egoyan's Chloe yesterday morning, it's fair to say there was quite a bit of the steamy stuff on the screen as well.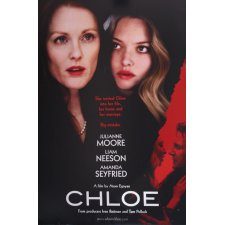 The film stars Julianne Moore as a gynaecologist who, on suspecting that her husband (Liam Neeson) may be having affair, does the only, ahem, rational thing... and hires hooker Chloe (Amanda Seyfried) to try to tempt him. Of course, this idea has trouble written all over it and it isn't long before Chloe is a fox in the hen house.
It's a very odd film. The plot - fiercely and pulpily film noir - is such a dyed-in-the-wool cliche that anyone not seeing where the story is going within the first 10 minutes will be the exception. However, Moore and Seyfried put in such a lot of good work that Egoyan more or less gets away with it and, despite its innate silliness - and dialogue which has the ring of a bag of spanners hitting the floor - if you can get over the implausibility of it all, its an enjoyable enough romp, proving unhinged lesbians never go out of cinematic style.
I'm going to attend a round table with Egoyan tomorrow, so I'll report back. Next up, I saw Inglourious Basterds - or Los Malditos Bastardos if you prefer - which I somehow managed to contrive to miss when it opened in the UK. I was unimpressed with Death Proof, particularly in terms of its long, drawn out dialogue scenes, so one look at the 153-minute runtime of IB left me fearing the worst. Much to my amazement, however, I thoroughly enjoyed it. It felt as if, for the first time in ages, Quentin Tarantino managed to keep his concentration on the job in hand in order to make his endearingly kitschy film about a group of American-Jewish soldiers who collect Nazi scalps. The performance from Christoph Waltz as the SS 'Jew-hunter' is - as many before me have pointed out - particularly impressive.
It was interesting watching the film with a mainly Spanish audience, who particularly loved some midway shenanigans which see Brad Pitt - the leader of the Basterds - speaking Italian with a southern American drawl. They were also incredibly keen to see it, even clapping the TCM and Universal logos when they appeared on the screen at the start.
I finished up the viewing for the day with Woody Allen's Whatever Works. Starring Larry David as, well, Woody Allen, really. A neurotic fifty/sixtysomething who believes most of the population are merely microbes in the face of his genius. One night, however, he finds a young woman from Mississippi, Melody (Evan Rachel Wood), on his doorstep and a relationship begins. This is the basis for a broad comedy - more in line with Allen's earlier work than his recent vetures - and enough of the humour works to make this worth watching. Read the full review.

I wrapped up the night by joining the rest of the - small - British press pack for the opening night bash. There was a major mountain of food - including a wall entirely decorated in prawn tapas, plus a second wall of the room given over to assorted meats and cheese, while a third corner offered a whale-load of sushi.
There was also entertainment in the form of - there isn't really another way to say this - men and women with golden balls. I'll include a picture or two with the article as proof. There were also cyberpunk style, mohican-quiffed men on stilts but the free booze was making it tricky to operate a camera by that point. In terms of star quality, the only person I noticed was Gabby Sidibe from Precious... but I suspect this is down to my inability to spot Spanish actors easily.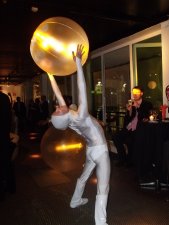 If San Sebastian is my new sweet shop, I'm up for rotting my teeth.
Share this with others on...