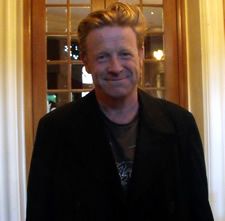 Anthony Dod Mantle in Edinburgh
It's been a hell of a year for cinematographer Anthony Dod Mantle. He spent the last part of 2008 and beginning of 2009 scooping awards left, right and centre for his work on crowd-pleasing Mumbai rags-to-riches fairytale Slumdog Millionaire and TV crime thriller Wallander, while since May's premiere of Antichrist at Cannes, he's followed this up by fielding questions concerning the storm of controversy that has blown up around Lars von Trier's latest work.
The film tells the story of a couple who – in an attempt to combat their grief at losing their child in a freak accident while they were having sex just a room away – head for a forest cabin to rebuild their relationship. Madness descends, however, and von Trier sets out to provoke, with scenes including graphic genital mutilation of both protagonists.
Despite snagging the acting award at Cannes for Charlotte Gainsbourg's central performance, alongside Willem Dafoe, the film has attracted as much opprobrium as it has praise, with booing matching the cheers at the screening and four people passing out. Critically speaking, while Guardian critic Peter Bradshaw branded it "intriguingly bizarre", many, including The Times' Bryan Appleyard, are scathing in their criticism. Appleyard says it left him "insensate" with rage, while The Daily Mail's Christopher Hart even went so far as to skip seeing the film altogether, stating: "You do not need to see Lars von Trier's Antichrist to know how revolting it is."
When I meet up with Anthony the afternoon before the film's UK premiere at Edinburgh Interational Film Festival, he seems pretty relaxed about the controversy – but then he has worked with von Trier for more than two decades and is well aware of the director's ability to provoke.
"I wasn't surprised, because anything Lars basically touches doesn't turn into controversy but he's kind of quite keen on shaking things up a bit. The shaking things up and the controversy and the provocation, I almost suspect, sometimes overshrouds the deeper meaning of things but he's quite a prober and this is certainly no exception," says Mantle, displaying a talent for understatement which flows throughout our interview.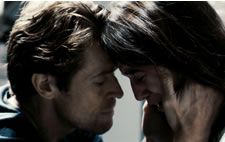 ""I don't think that is the case with this, I think this is provocative because this is about a very dark passage in his life. It's about a very difficult element of his life at the moment, it's about many things he's struggled with over the course of time and it's about some fundamental polemics about life that we all touch on. I'm not saying there's a solution to anything in this film at all but it touches on things worth thinking about."
The "dark passage" he is referring to is the well-publicised depression that von Trier was suffering during the making of the movie. At a press conference in London the director said: "It was mostly the practical thing - if you do a film then you are really involved in it and it's difficult to be depressed at the same time."
Certainly von Trier – famous for dust ups with Nicole Kidman on the set of Dogville - seems to have inspired affection in his cast and crew this time around. Charlotte Gainsbourg has referred to the director as "fragile" on the set and it's a word that Mantle uses, too. When I ask him how their working relationship has changed down the years – which have seen them collaborate on films including Dogville and Manderlay - he again alludes to von Trier's dark days on the Antichrist set.
"Many things change for the better, because you get to know each other so well," he says. "That has generally been the course of things over the last 20 years, since I went to Denmark, and quite intensely over the last 10 years when we've worked together quite a lot. It does get better.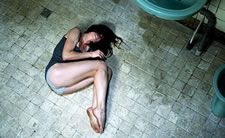 "Just as he says about his own life, inevitably, I and, I think, other people on the crew have been affected by his harder moments, these last years. He hasn't been having a good time of it and certainly wasn't having a good time of it when we made this film. Very often, even though all his films have a very serious, apocalyptic, potentially harrowing content or theme, it's usually pretty hilarious working with him because he's a very funny man. He's extremely amusing, witty, sharp and intelligent. And he still is that, underneath it all somewhere, but there was less of that on this film.
"In the first place you're making a film that's very dark and intense and contained, in the middle of nowhere, with very few players. There are very few distractions and, over and above that, when there's that kind of atmosphere, that has often been the case with Lars, it was harder. It became quite hard. During the course of developing it and going into shooting we got on fine, but I felt by the end of it all, that he was also exhausted.
"We've had a few banters - he's had a hard time. He seems much better now. I speak to him less at the moment - we go in and out of conversation - but he's a lot better now. I think it's great the film's out and, whether it's good or bad press he just likes it - people are reacting to his film."
Banters or not, its clear that working with von Trier has its own attractions, the cinematographer describes him as a "visionary" and seems to relish the fact that solutions to the Danish provocateur's requests are never easy.
"Even the most apparently simple, innocent idea he might have will develop into some kind of complicated affair - which is also the joy of working with him, it's exciting, demanding," he says.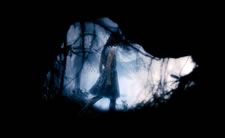 "This is one of the most technically demanding films I've ever worked on. It's highly complex, highly varied - there are many different aspects of technology in it. From special light set ups, a certain kind of handheld movement and body movement, which is difficult with equipment that's heavy. To motion-control set ups - which are computerised cameras that have to be ferried around and have to be co-ordinated - to animals, to high-speed cinematography, it goes on and on. There are a lot of very special things going on in this film and it was demanding - and interesting, that's the sort of thing you want to do."
The demands of the film are probably the reason why it was a considerable time in planning.
"Antichrist was burning slowly in me for a year before we started shooting," Mantle reveals. "I was shooting Slumdog and Wallander, with Kenneth Branagh, believe it or not, but it was burning inside me and festering, fermenting, whatever you want to call it.
"Then I had meetings on and off with Lars, we chat, we discuss, he has ideas, I try to pick his brains about why and try to find a logic for what he wants to do. Sometimes he has ideas upfront but there is no explanation of why and I need to understand that to try to get the material to be cohesive, so that it flows. That's one of my jobs with directors, apart from solving technical things or getting people together who can do it.
"With Lars it's a long process of planning the house, choosing the location, supporting him when he's fragile - which is the case this time - and keeping the trust and the loyalty, which has been fine all the way through shooting until the end, where it collapsed a bit. I think he was exhausted and it got a bit difficult but hopefully he's happy now with the way the film has gone and certainly visually it seems to be doing okay, so we haven't blown it."
When I ask him about shooting Danny Boyle's more upbeat Slumdog, he says it was very demanding, too.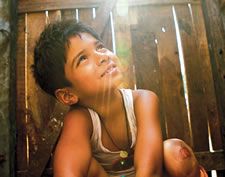 He adds: "Slumdog was kind of high-speed Charles Dickens. I lost 11 kilos doing it... I probably put on weight doing Antichrist. Actually, I don't know if I put on weight but it was a different kind of head space to be in. It was more of a chamber piece with two people out in the country and a smaller crew, so in one sense it was less disturbing - but intellectually and technically it was extraordinarily difficult to do this film. And Lars was not 100 per cent."
Danny Boyle is another of Mantle's frequent collaborators – having worked on 28 Days Later, Millions and Slumdog - and, in fact, his career is littered with partnerships, including Kevin Macdonald (Last King Of Scotland and the upcoming Eagle Of The Ninth) and Thomas Vinterberg (Dear Wendy, Festen among others).
When I ask him about these ongoing relationships, he says "I think you shouldn't do that longer than is wise, but there are advantages to returning to the same 'murderer'. If you return there and you've got a lot of garbage out of the way and know each other well, you've got a good base. And as long as you tell the story in the way the story deserves and not repeat yourself... if you start to repeat styles, it's pointless I think."
It is clear that the need to keep things fresh and experimental is a clear driver for Mantle when it comes to picking his work. He worked quite extensively within the Dogme 95 group, adding: "There's an amazing amount of rubbish in those films but there are interesting ones. In the dogme group I shot Festen, Mifune - which is on film - and Harvey Corinne's Julien Donkey Boy and they're all very different and that was enough for me.
"I can't remember what all the rules [of Dogme] were but it was the fact that there were rules that made me think differently. It's just healthy. [For example] if you drive a car through Edinburgh on a Saturday afternoon on the wrong sie of the road, provided you survive and don't kill anbody it's an experience and you'll see the city in a different way. That was about, for me, encouraging us to think differently, afresh.
"What came out of it was far from all good but there are different levels of profit to be derived from it. On a personal level you learn things. There was a whole idea of confessing about where you cheated or gave up, which is interesting, too, on a conceptual level. That wasn't really exploited too much, it very quickly became a producer/merchandise thing, which I think, ultimately, was its gravestone.
"Getting toys out is fun, but for me it's the variation from one to the other, the diversity which keeps me alive artistically. Ultimately, as far as as the engineering is concerned - apart from the social engineering of being with different people at different times - it's engineering an idea, a concept, a look with a director and developing it.
"It's the variation which is inspiring because you have a new story, there are new potentials and you have to go there. Some people, some cinematographers, too, tend to repeat themselves a bit. They tend to know their safe way of doing things; they have their boys, they have their crowd, they have their techniques. I'm not being cynical, but there is a lot of that going on, particularly evident in some American films, for some reason, where things are, perhaps, so big, that you just have to play the safe cards and deliver on time.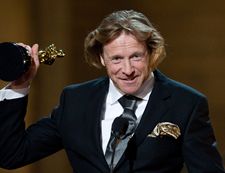 "I think Janusz Kaminski is a European American, even though he teased me onstage at the Oscars, I think he's continued to, to a certain extent, experiment and test himself out on high level films with Spielberg and so on, which could have become very machine-like and boring, but he's continued to [experiment]. It's very hard at that level because it gets very heavy and stodgy. As far as Slumdog is concerned, it wasn't that massive moneywise. Danny doesn't want the films to get to big. He wants all the time to feel there's the equation of limitation that enhances artistic energy. He's lovely. He's bloody hard work but that's also his quality. Very demanding."
Speaking about the Oscar praise Slumdog received, he admits he's still "gobsmacked", but adds: "You're always surprised when you pick up an award, especially me. My mum's always very pleased.
"I knew that as much as Slumdog was good and tangible, I felt Antichrist was equally attractive as a script, in the sense that it was unusual, and, appetising is a weird word but, for me, as an image maker, as a visually minded person, they were equally challenging in different ways. That's a privilege for me to be allowed to do those things and I can't ever expect it to happen. I obviously consciously and subconciously try to hunt that kind of collaboration with a director who wants to play."
His next 'game' will be with Scot Kevin Macdonald, on Roman-set adventure Eagle Of The Ninth
"He's another killer director - he's astute and he's demanding," says Mantle "I find him appreciative when you're developing ideas and he takes it on board, I like it a lot. And I've only had The Last King Of Scotland as experience, but apart from the odd tiff, we had a great time on there, with limited time and money, we did what we wanted to do."
You get the impression that, like all his films before, this is a challenge he'll be relishing.
Share this with others on...