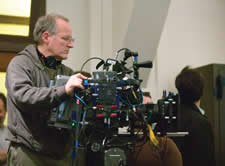 Michael Mann on the set of Public Enemies. All photos © 2009 Universal Studios. ALL RIGHTS RESERVED.
In a career spanning more than two decades, Johnny Depp has emerged as one of the world's most versatile and successful actors. He stole our hearts in Edward Scissorhands, shivered our timbers in Pirates Of The Caribbean, put the oompa into Charlie And The Chocolate Factory, and made a marvellously musical murderer in Sweeney Todd.
July sees the handsome superstar back on the big screen, this time playing legendary outlaw John Dillinger in Public Enemies. And when Eye For Film heard that Depp would be promoting the film at a press conference in London – along with co-star Marion Cotillard and director Michael Mann – we were there faster than you could say 'A-list'.
Looking stylish but relaxed in jeans and a waistcoat, the actor explains what drew him to this particular part. "First and foremost, when I was nine or 10 years old, I had a fascination with John Dillinger," he says. "I don't know why – probably not a healthy one – but I did. I think it was something about the twinkle in his eye. There was something mischievous about him that intrigued me. But in terms of taking on the role, the idea of a guy who was called Public Enemy Number One – but really, if you think about it, was never an enemy of the public, ever… That, I found intriguing and challenging."
Cotillard, on the other hand, admits she wasn't at all familiar with the famous bank robber, though she was well aware of the movie's talented director. "I'm a great fan of Michael Mann," says the actress, who plays Dillinger's girlfriend, Billie Frechette. "When he asked to see me, I couldn't believe it and I was very happy. I met him and I read this beautiful script. I didn't know anything about Dillinger, but I really fell in love with the movie, with Michael Mann and the role."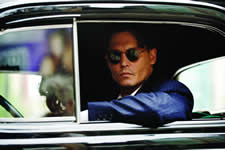 Both stars clearly invested a great deal of effort trying to get a real sense of the people they were playing. "With John Dillinger, there's an enormous amount of information on the guy – we know where he was at 12:02, what banks he robbed and all that – but there's a great gap with regards to really who he was," says Depp. "There are endless photographs of him, but there's no audio, there's just an attitude that you get. That was the dig – how do I find this man? How do I find the way he speaks? What's he sound like?
"What made it for me was when I made the connection that John Dillinger was born in Indiana and raised in Mooresville, Indiana, which is about two hours from where I was born and raised. It was at that point I thought, ah, I hear his voice now, now I know him, I know what he sounds like, because it's not all that different. He was my grandfather who drove a bus in the day and ran moonshine by night; he was my stepfather who did time at Statesville Penitentiary. I could hear his voice then."
Cotillard, meanwhile, met up with some of Billie Frechette's relatives in Wisconsin. "They talked about her childhood," she says. "I think you can understand many things about someone if you know how they were as a child." She also spent time with some convicts' wives, listening to their own emotional experiences. "When they told me the stories, they went back through all those feelings – the fear, the extreme pain, because you don't know what's going to happen," she says. "I could see and I could feel their pain and their fears, because you don't know what's going to happen the next day. You don't know if your husband is going to be alive the next day. It helped me a lot – you gather some emotions and feelings, you learn a lot of things, and it creates your character."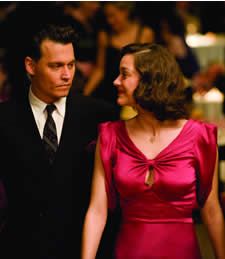 What's more, the French actress – who scooped an Oscar for her performance in La Vie en Rose – had to work on her American accent for the film with the help of a dialect coach. "It was very hard actually – and when I started I thought it was not possible at all," she says. "But I really tried to do my best. Fortunately Billie's half-French [half-Menominee Indian], but she's not supposed to have a French accent because she lived in North Dakota and Wisconsin. It's very technical – you really have to work and work and work and practise. It's about using your whole face, jaws, tongue and body in a totally different way, and it was very interesting."
It wasn't just the film's stars - which also include Brit actor Christian Bale - who had plenty of preparation to do. The biggest challenge facing director Michael Mann was how to turn back the clock and make 21st-century locations resemble the world of the early Thirties. "It was very difficult," he admits. "You'd have a building from the 1920s, from the turn of the century, and then you had three others that weren't. When we did the Biograph [Theater], they'd taken down the authentic marquee about a year before we got there, which was a great tragedy. So we had to put that back. And then we had to change the ground level of all those buildings, and put facades on all the buildings, and put cobblestones down, and trolley tracks were in the middle."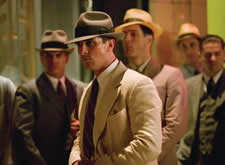 He goes on to reveal more about the complex shoot: "There exists in the south-western quarter of Wisconsin a very unusual area. Wisconsin had a boom economy at the turn of the century, from about the 1860s after the Civil War all the way to about 1910 – it was lumbering and iron ore. It was fabulously wealthy...it was like Silicon Valley in the Nineties.
"But when lumbering was over, the south-western quarter doesn't have rich agricultural land like the rest of the state did, so their economy just trickled along. Consequently, there were these fabulous towns and small cities that were built up, they were very well maintained, but they never got their Walmarts and their Burger Kings and their McDonald's. So the silhouette of these towns is perfect, exactly the way they would have been in the Thirties. They've got this beautiful old county courthouse and county square, and at the end of the main street the forests and hills begin. So we did a lot of shooting up there."
Where possible, Mann felt it was important to lens at actual sites visited by the real Dillinger. The filmmakers were able to use the structures for three of the gangster's famous brushes with the law: the Lake County Jail in Crown Point, Indiana (from where Dillinger dramatically escaped); the Little Bohemia Lodge in Wisconsin (where he evaded the FBI in a fierce gunfight); and the landmark Biograph Theater in Chicago (the setting for his eventual betrayal).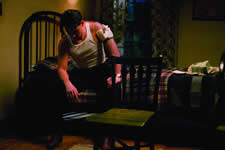 "The magic of being able to shoot in the real Little Bohemia in Manitowish, Wisconsin, for example, was superb," says Mann. "For Johnny Depp to be in the same bed John Dillinger really was in – for him to be shocked awake by gunfire and see the ceiling that Dillinger saw, and look out the window to try and find where this attack is coming from – was phenomenal. The same too with the Crown Point jail. It had been abandoned in '74 and was falling in on itself – there's some stuff on the internet right now that has some footage of what that looked like when we first went there. We restored it, because you couldn't invent a place that was like that."
Depp adds that it was "amazing" to film on actual locations where Dillinger had been years before. "Michael was a real stickler for that sort of thing and I will thank him forever for that," he says. "To be able to fire my Thompson out of the very window that John Dillinger was firing his Thompson out of during the gun battle at Little Bohemia – you can't put a price on that."
Though the finished film is well worth seeing, it's doubtful that Depp will be rushing to view it anytime soon. Despite being renowned as an international heart-throb, the star confesses he doesn't like watching himself and has not yet seen the movie. "If I can avoid the mirror when I brush my teeth in the morning, I will," he admits. "I find security and safety in the most profound degree of ignorance. If you can just stay ignorant to almost everything, I think you'll probably be OK. Just keep walking forward. It's OK to notice things and look at things, but to judge things will bog you down. So yeah, I don't like watching myself in the movie because I don't like to be aware of the product. I like the process – I enjoy that."
Never mind, Johnny – at least we're always happy to watch you…
Share this with others on...