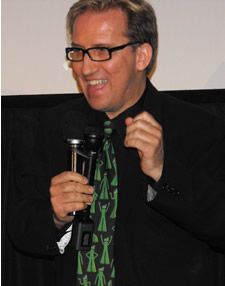 Mark Kostabi after the screening of Con Artist
The news that 348,000 cinemagoers watched something during this year's Tribeca Film Festival shows just how healthy the attendance was, given that the main slate featured around 40 fewer films but the attendance was only down by around 50,000 on 2008. Certainly, every public screening I attended was at capacity or close to it.
The festival's executive director Nancy Shafer said: "Theatres were packed, even during weekday matinees." And I confirm it's a fact - I have rarely seen cinemas so consistently full as I have over the past two weeks, paying testimony to New Yorkers' love of film and of the festival's ability to find strength in diversity.
Due to the New York cold that was coursing through my critical mass during the final days of the festival, I only managed to catch two further films, but both of them were worth seeing.
Con Artist may not seem initially that interesting - based as, so many Tribeca docs before it, on a particular part of the New York art scene - in this case, Mark Kostabi an enfant terrible in the Eighties, who made his name by selling artwork he confessed, even at the time, he didn't paint. This is a vibrant, engaging profile not just of Kostabi - then, and now - but of the Eighties artworld and culture. Read the full review here.
The screening was packed with figures from the New York scene of the past and present, including many of the up and coming bands who feature on the slick and sexy soundtrack. Also in attendance were director Michael Sládek, producers Perry Grebin, Michael Nigro and Denis Jensen, co-editor Jacob Bricca, plus, most importantly, Kostabi, who announced his entrance by tossing handfuls of dollar bills into the audience as he walked to the front of the auditorium.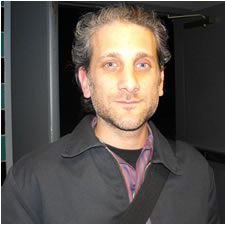 Michael Sládek after the film screening
Speaking about how he came to get to know Kostabi, Sládek said: "I first heard about Mark from my old neighbour, who was one of his painters. I was unemployed a few summers ago - well I'm always unemployed; always looking for freelance work - and he told me to come down to the [public access TV] studio, as there's a wacky gameshow this artist does and they'll put you on a camera, because all the cameramen on the gameshow are painters and assistants in the studio."
"You'd never heard of me before then?" asks Kostabi, incredulous.
"No. So anyway, I went down there and got on the camera and did the gameshow about once a week for three months. Then I realised that Mark was an interesting character and that the scene was really interesting and that there was the potential to make a really fun comedy about the artworld but also, hopefully, a smart film about art and money and celebrity and, dare we say it? Fakery?"
Kostabi: "On whose part?"
Sládek: "I don't know... that's something for the audience to decide."
He was then asked how real Mark Kostabi's fame was. "All that stuff was real," says Sládek. "I mean there was stuff we couldn't even get hold of. Oprah Winfrey wouldn't let us use his appearance on there and there's definitely a lot more we couldn't pack in.
Kostabi, subversive to the last and to gales of laughter from the crowd, adds: "The fame is real. But how I got was not accurately portrayed in the movie. Two guys got a lot of credit for it - Baird Jones, great guy, recently passed away, he was a good friend of mine, I can't believe he said all those mean things about me that were total lies in this movie - but that's what happens. And Andy Behrman [who was, some might say somewhat ironically, jailed for forging Kostabi's signature], I'm still so upset because people are getting it all wrong."
It's at this point that he goes off on something of a rant about what Behrman did and didn't manage to do for him but goes on to add that he thinks the movie is "fabulous". Throughout it all, you can help but sit back and admire his breathtaking audacity.
Sládek goes on to say that it took three years to make the film and that they only finished it two weeks ago.
Kostabi, never one to be left in the shade for longer than three seconds, says: "By the way, I'm working on a sequel to Con Artist. It'll be finished before you even get a distribution deal. But, back to your movie, the best thing about it are all the colourful charcters in addition to myself."
While I was enjoying the phenomenon that is Mark Kostabi, the winner of the Heineken Audience Award was announced as City Island - a drama about a troubled New York family, starring Andy Garcia and Julianna Marguiles.
My festival wrapped up on Sunday morning, with a screening of North (Nord), which won the award for best new narrative feature for its director Rune Denstad Langlo. It's a brightly crisp debut which balances message with some strong humour to tell the tale of depression-struck ski-lift operator who goes on an odyssey to meet the son he didn't know he had. Beautifully shot and with a corking central performance from Anders Baasmo Christiansen, this squeaks in a my second favourite film of the festival after Departures.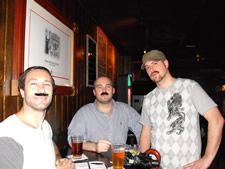 From left, the Casanova, the Scoundrel and the one I didn't catch the name of...
So, after 10 days of films, one cold and a lot of the New York unexpected, the festival draws to a close. While I'm still expressing bafflement at the appeal of the uneven The Eclipse and disappointed that romcom TiMER didn't quite manage to fulfil its potential, there is plenty to look out for, particularly North, Departures, The Fish Child (screening at
EIFF
next month) and
About Elly
. Oh, and just when I thought I'd seen it all in New York? I was asked to pick out fake moustaches for some men in a bar - you can see them in the picture - why they were wearing them remains, like so many other things about this most wonderful of cities, a mystery....
Share this with others on...