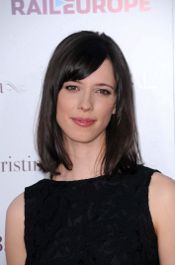 Nominated for a clutch of awards during the past year, Rebecca Hall has been taking the film world by storm. Eye For Film's Stuart Crawford caught up with her while she was doing theatre work in New York to ask how she feels about her latest nomination.
Stuart Crawford: Hi there. How are you doing?
Rebecca Hall: Fine thanks. How are you?
SC: Oh, not bad, not bad. Just dealing with a blizzard at the moment, but otherwise fine. So, just for the benefit of the readers: you're currently doing a show in Broadway at the moment, is that right?
RH: Yeah, sort of. Well, it's actually at the Brooklyn Academy of Music.
SC: Oh, right.
RH: Yeah. I'm doing The Cherry Orchard and A Winter's Tale. There's a lot of rehearsing.
SC: So it's sounds like you're keeping yourself busy, then.
RH: I really am.
SC: Good stuff. Of course, what we're here to talk about is the BAFTA Awards, in which you've been nominated for the Orange Rising Star.
RH: I know. It's very nice indeed.
SC: All the previous winners of that - Shia Le Boeuf, Eva Green - and I believe you've actually starred with James MacAvoy - they've all gone on to do really high profile stuff. Are you quite excited to be nominated for the same award?
RH: I am. It's a really nice award because it's a reflection of what viewers think. This year I'm in very good company. I haven't seen Hunger but I'd really like to because I've heard that Michael Fassbender's brilliant. I've seen Toby Kebbel in other stuff; I think he's great. It seems to me that it'll be a close run thing.
SC: You seem to be collecting quite a few award nominations.
RH: I have! It's alien to me.
SC: There was the Empire award for The Prestige, and others for the Woody Allen film Vicky Cristina Barcelona...
RH: Yeah. I can't complain - the last few years of my life have been the kind of stuff I've dreamed about. I really began to feel that I was going places when I got to work with Woody Allen. It was a year ago now when that happened, and I just had to pinch myself. I'll have to go and see the film again to make sure it really happened. From beginning to end it was borderline surreal. When I was 13 and watching Woody Allen films I don't think I could have created a fantasy in my brain to match this - the reality outshone the fantasy.
SC: I can see that you're a bit of a fan. What's your favourite of his films?
RH: I don't know. It changes quite a lot. There are lots that I go back to all the time. I love Husbands And Wives and I love Hannah And Her Sisters. And Another Woman - I loved Gena Rowlands in that. It's weird that Vicky Cristina Barcelona still hasn't come out in my home town.
SC: Frost/Nixon is your current film over here. It must have been quite a different experience working with Ron Howard. I grew up watching Happy Days...
RH: Yeah, me too!
SC: You're sort of standing there and it's Richie Cunningham - that must have been a whole different level of weird.
RH: It was really strange. And he hasn't changed that much. He has a sort of natural eagerness and excitement - everything excites him, everyone's ideas and everyone's input. That level of enthusiasm is very intoxicating and it's great to be around.
SC: Sorry if I'm getting distracted. The other day I watched fifteen episodes of Twin Peaks back to back and my head's in a strange place now.
Rebecca laughs.
RH: I'm familiar with that. I've done season one and season two and then the film. It's terrifying.
SC: So, getting back to the people you've worked with, it's a really impressive list of names.
RH: It's good because it's what I've always wanted and I've been able to play very different characters. I haven't really been pigeon-holed or typecast and I'm really happy about that.
SC: So where do you see yourself going in the future, if you can manage to keep avoiding those pitfalls?
RH: I don't know about that. If things can carry on this way, that's fine with me. I like doing accents, I like working with directors I admire, I like playing challenging roles - and they are around. A lot of actors complain that there are no interesting parts but there are, you just have to search for them.
SC: Do you have anything interesting in the pipeline at the moment?
RH: I'm going to be in the theatre a lot, including the Old Vic in London. I've got a film coming up with Catherine Keener and Oliver Platt, which I'm really excited about. I loved doing it and I think Nicole Holofcener is a really great director. She's an actors' director and works very well with women. I've also got an adaptation of Dorian Gray on the way, with Ben Barnes; and a big Channel 4 funded three parter called the Red Riding Trilogy, which is about the Yorkshire Ripper. Inspired by the Yorkshire Ripper, anyway. It was really interesting and challenging.
SC: So who would you most like to work with?
RH: I have a very long, extensive dream list. The Coen brothers, Martin Scorsese, maybe. Michael Haneke I think is kind of brilliant. I'd love to work with him - but that would require me to speak another language. You're talking to a really serious movie nut here! Most of what I do when I'm not acting is watch movies or DVD box sets like Twin Peaks.

You can vote for Rebecca to win the Orange Rising Star Award at www.orange.co.uk/bafta.
Share this with others on...