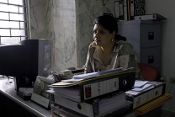 Amreeka
Day Three and still not a snowflake in sight. Had to laugh, however, when a local told me that this is "spring thaw" which seems something of an overstatement since the daily high temperature around here is a balmy two degrees.
I start the day with Amreeka, which is one of the projects that has come up through the Sundance Middle East Screenwriters lab - among other development projects. It tells the story of single mum Muna, who increasingly weary with life in the checkpoint controlled West Bank, moves with her son, Fadi, to the US. Once there, however, they find that starting a new life is not as easy as it first seemed. Nisreen Faour is commanding in the central role and is ably supported by the likes of Hiam Abbass. There is a certain level of simplification going on regarding the situation in the Middle East and the film's "people are people wherever they come from" motif is well-trodden ground. But despite dealing with heavy issues, writer/director Cherien Dabis finds plenty of humour in the situation and the film treads a path somewhere between last year's La Grain Et Le Mulet and The Visitor. It's well worth checking out if you get the opportunity.
Tony writes... In Cold Souls Paul Giamatti (Paul Giamatti) is having trouble with playing a stage role in Uncle Vanya - the part is getting to him. Paul's agent jokingly suggests he look at a New Yorker magazine article concerning a medical procedure to remove the soul. Desperate to alleviate his distress, Paul, with great trepidation, approaches the clinic. Succumbing to the sales pitch, Paul undertakes the procedure. This helps his mental state, but completely ruins his stage performance. This is also the beginning of his problems. Turns out the clinic is involved in illegal trafficking of souls from Russia. Then Paul's soul goes missing.
Quirky comedy that doesn't take itself too seriously, Souls manifest themselves as small nondescript lumps. Coasts along on Giamatti's charm. Director Sophie Barthes notes that she had Woody Allen in mind for the lead role originally and that probably tells you what you need to know - look out for more from the press conference coming soon.
Taking a break from the screening rooms, we head the filmmakers/journalists meet and greet, Tony writes... in a break from previous years, the directors outnumbered the press at this informal junket, and we managed to interview/chat to a good number of folk, many of whom - somewhat bizarrely - queued up to talk to us. Among the throng, William Kunstler Disturbing The Universe co-directors, Emily and Sarah Kunstler. Grace director Paul Solet, who cheered me by being a fan of Seventies and Eighties horror. We also met a slew of short film directors and scooped a number of screener discs, which we will try to find time to review very soon. Finally Martin Todsharow, music composer on the excellent German film, Lulu And Jimi. This ego boost was short lived, however, as our credentials failed to impress the door staff for Jim Carrey's promo party for I Love You Phillip Morris. On the plus side, though, we're hoping to bring you an interview with Lulu And Jimi's director at some point in the not too distant future.
Fortified by our free late lunch, it was time to hit the screens again.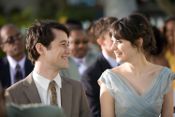 Amber writes... toyed with joining the waiting list line for I Love You Phillip Morris but after hearing tales of woe from premieres earlier in the day - when even those with tickets seemed to be having trouble getting in - I decided that I'd check out the press screening of 500 Days Of Summer instead. This romcom has the whimsy turned up to stun and stars Joseph Gordon-Levitt and Zooey Deschanel. Gordon Levitt recounts the 500 days of his relationship with Summer (Deschanel) as a counter zips backwards and forwards through the time they spent together. At times, very funny, it is still somewhat overlong and suffers from a surfeit of ideas from helmer Marc Webb. His imagination is not under dispute, but his discipline could use some work, as the various film techniques tumble over one another just a little much in the end. That said, this is way above average for the genre and will doubtless find its way to a multiplex near you at some point.
I finished the day with hot Doors doc When You're Strange, which seems to have been getting an immense amount of buzz about the place this week. Tickets for it have been at a premium and despite being the last press show of the evening, the screening was packed. Featuring never seen before archive footage, Tom Dicillo's film charts the rise of the rock band and the fall of Jim Morrison. The editing is sharp and the footage compelling, although the narration (also by DiCillo) is rather ponderous in parts and features some unnecessary editorialising. It does, however, offer an insight into all the band members, including Morrison, although rather shies away from the drug use aspect of his life. Fans will doubtless lap it up, while those not familiar with the group will also find it an interesting ride.
Tony, meanwhile, caught Victoria Day... A look at the life of Canadian/Russian teen, Ben Spektor (Mark Rendall). Set in 1988, Ben's main interest in life is ice hockey, but this is beginning to shift towards the opposite sex. That obscure object of desire turns out to be the sister of one of his hockey team mates. Complications ensue when this team mate disappears after a Bob Dylan concert.
This is a well-observed slice of life with outstanding turns from the whole cast. The only problem is that the slice is all you are given... there should be more.
Share this with others on...