The White Wolf was a favourite
Encounters Film Festival is a Bristol-based celebration of the briefest and snappiest of films. Now in its 14th year, it brings short films - and their filmmakers - to the city from November 13 to 23, to celebrate the emerging talent.
I'm attending the festival as a student delegate and arrive with a student pal, Jona, at 10am, ready to pick-up our passes and bags of swag. Though the place is not packed yet, the makeshift foyer in the Watershed cinema is buzzing with people who disappear in the blink of an eye. Wednesday is the animation day and Who Framed Roger Rabbit? animator Richard Williams was in town to promote his 16 disc(!) animation instruction set - understandably the crowd have flocked to see him and word is they were impressed by the smiley animator.
Left in an empty room, it didn't take long for us to realise the folly of our ways. We had a two-hour gap until our next event and we had just finished our first coffee. Minutes later that gap increased to four and a half hours as the Channel Four Factor talk we had intended to attend was sold-out. After discussions over breakfast it was decided we would venture away from Encounters to try and sneak in a showing of Zach and Miri Make A Porno at a nearby multiplex, which, admittedly, rather misses the point of being at a short film festival. But this diversion was foiled by a finish time too close to clashing with Encounters.
So, we took a walking tour of Bristol, sampling the new shopping behemoth at Cabot Circus (lame) and the more eclectic shops nearby the university, attempting to make it into the Encounters delegates lounge in-between, only to find a non-moving queue. A second entry attempt an hour later at was both more successful and more disappointing – we made it into the room with ease but there was no-one there. The vultures had left, taking all the free coffee.
Finally, we made it to our first screening of the day - a showing of all the nominees for the European-wide Cartoon D'Or contest. Opening the showing was the winner of the award, French animation A Mouse's Tale (dir: Benjamin Renner) – an audience favourite, this is a charming silhouette animation about a mouse outsmarting a mysterious predator. Next up was Breakout (dir: Arnaud Demuynck), a beautiful but pretentious hand-drawn black and white animation about a prison breakout. The only entry on the bill not made in France or Belgium was John And Karen (dir: Mathew Walker), a British short for Channel Four, and sadly it was the weakest entry, mixing excessive anthropomorphism with dull kids' TV quality animation – at least it was brief.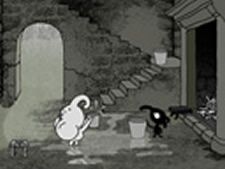 Flooding is imminent in Rain Down From Above
The last two animations had buckets of handmade charm and hints at the macabre. Animated with models and bearing similarities to Aardman's work, The Bridge (dir: Vincent Bierrewaerts) chronicles a father and son living alone on a disconnected cliff top. The White Wolf (dir: Pierre-Luc Granjon), meanwhile, is simpler in form, made with cardboard cut-outs, but no less pretty in conveying the story of two brothers befriending a wolf. All in all, The White Wolf was my personal favourite though A Mouse's Tale was also wonderful.
Following a brief interlude, we took front row seats for New Russian Animation programme. The opener Dozhd' Sverkhu Vniz (Rain Down From Above; dir: Ivan Maximov) was a strong start to a good programme, bringing together disparate people and animals trapped in a steadily building flood. Animated with fabric Malen'Kaia Vasilisa (Little Vasilisa; dir: Darina Schmidt) was both a personal and audience favourite – a fairy tale indebted story about a little girl, Vasilisa, who lives with mean guardians, and who goes on an adventure in a forest with a talking bear, a mouse friend, and a witch.
A fire alarm went off mid-screening of Russian animation On I Ona (He and She; Dir: Maria Muat), an overly melancholy tale based on Gogol. An unusual experience for sure, I'd never been evacuated from a cinema before; those years of fire-drill warnings at school went to waste as we calmly evacuated the building after collecting all our belongings. It also happened to be quite well-timed as I felt my eyes beginning to drift at this point in the early evening. Thirty-minutes later I went back to New Russian Animation reinvigorated thanks to the chilly Bristol air.
Sadly our Russian programme was cut short by the delay this interruption caused (which also cost us our free drink at the delegate's happy hour) as we had to hightail it to the other side of Bristol dock for our last event of the day, The Best Of British 1. It is apt that an animation was the main highlight of the show and Varmints (dir: Marc Craste, also the illustrator of the novel) shows the beauty that can be created with CGI. Like in Wall-E, the protagonist lacks a proper vocabulary and also like Wall-E, the story is a cautionary tale about our industrialised times. As my viewing partner pointed out, the ending is a bit of an anti-climax, involving weird squid creatures in the sky but, for me, Varmints got my audience vote for its achievements in animation.
It was a close run thing, though, with the inventive A Hero's Journey (dir: Jack Herbert) coming a very, very close second. The story is shot from the camcorder perspective of Sam, a young boy with a lightsabre, whose quest against evil coincides with the arrival home of his mother and her gentlemen friend. Can Sam stop the imaginary timebomb going off without being spotted by the couple in heat? Other good entries included the amusing Everyday People (dir: Edna Hughes) about people with famous namesakes and the haunting Jehovah's Witness (dir: Alain Kramer), which sees an evangelising JW get more than he bargains for when he calls on a family.
Less successful on the Best Of British programme were the likes of Come Here Today (dir: Simon Aboud), a Sadie Frost vanity project which features Rhys Ifans as a regretful drunk; and What Goes Around (dir: Nic Penrake), a disjointed film which contains the dual evils of atrocious acting and idiotic plotting. Also of note for being less than brilliant is Mental Block (dir: Karen Palmer), a documentary about a free-running practitione, which repetitively drums in the message the challenge of free-running is, yes, a mental block. It probably doesn't help that the practitioner didn't seem as talented as some. Again, at least it was brief.
Tucked onto the end of showing was the music video for The Hours 'Ali In The Jungle' (dir: Jonas Odell). Based on Damien Hirst's album artwork, the video is a visually stunning animated variety show featuring dancing skeletons, a weird machine, and Ali fighting in the jungle. Though the music video was strangely out of place and featured a deathly dull indie song, it was a fitting end to the showing and a day that had proved nothing short of animated.
Share this with others on...