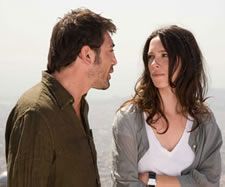 Javier Bardem and Rebecca Hall in Vicky Christina Barcelona
One of the London Film Festival's posters proclaims: "Film is all about point of view", quoting City Of God director Fernando Meirelles. It can all depend on where you stand...
In front of Vicky Cristina Barcelona
I was lucky enough to be on the jovial side of the crowd barrier with the great and the good, while the suited and sequined ticket-holders queued up to get in to Woody Allen's latest. It stars Javier Bardem, Penelope Cruz and Scarlett Johansson. La Cruz was just arriving...
"She's Spanish. The car's going to come in and she's going to come straight here.
Not there [pointing to the photographers]. Here. She's Spanish."
Penelope arrives and the cameras flare.
"Penelope! Penelope!"
"Over here!"
"She's Spanish."
"Via España!"
"Penelope! Por favor, por favor!"
"She's not Scarlett."
"It must be terrible being famous."
At Lake Tahoe
"What's my seat number? Look at my ticket! Look what that retard has done!? That retard's torn right through it, look at that! What a retard!"
He's now approaching the polite attendant helping direct people to their seats: "Sorry about this. But, look what your retard friend has done! Torn it right through!"
Her professionalism is impeccable.
Outside Telstar
Nick Moran pulls up in spanking classic Jaguar for the international premiere of his directorial debut.
"Who is it? Is he anyone famous?" The man next to me asks.
"Well, that's Nick Moran', I explain." I point at a poster and add: "And he's directed this film, Telstar."
He looks to where I'm pointing and back at Nick, then back at me.
"He was the lead in Lock, Stock & Two Smoking Barrels", I add.
"No," he says, looking at me. "No good. I'm blind."
Getting Hooked
At the screening of Hooked, an inventive Romanian film 99 per cent of which is shot from the direct point of view of each character. A tad gimmicky at first, it's a bold move that quickly pays dividends. If it's given a chance.
The lady in front's point of view:"Good, I've got the aisle seat again. Not the seat number on my ticket, of course, but that didn't stop me. Didn't stop me last time. Or the time before. Shouldn't apply to me anyway. Just tell the nice young whoever that I need to sit there and they won't mind. Tell them they won't mind. Seems to work.
"Oh, the film's started. A foreign one with snappy subtitled dialogue and some silences. As perfect a time as any to get out my coffee flask. Good job I remembered to wrap it in not one but two carrier bags. Wouldn't want my big crinkly handbag to get wet if it leaked. Of course, it's going to make an EENCY-WEENCY BIT of noise to get it all out. I know, I'll slowly uncurl the bundle one bag at time.
"Can't rush these things. Maybe everyone'll think this continuous non-stop rustling is part of the film. Or a problem with the speakers. Ooo, it is taking a long time and I am so gasping for that cup of coffee.
"There's still a lot of people looking at me. I'll just stare back at them, each, in turn. Ha! They all look away, they can't take it! This film that important to them? Well, I just can't see why a film shoul ...
"Whoops! Spilt my coffee now! That was quite a splash – out and up and down the aisle! Quite a bang as well, even on this carpet. Well, that's a shame but not too worry, it's such a lovely big flask there's still plenty to get me to the end of the film again. Maybe people won't notice this time. Now, first bag number one ..."
My point of view: Obstructed. We're all noticing, again. I'm sitting behind you, I can't hear the dialogue properly, I can't see the subtitles and you spilt your coffee on my foot.
In Leicester Square
Two men are looking up at the huge festival poster on the front of the cinema that quotes the late, great Anthony Minghella.
"Minghella," says the first, crossing his arms and nodding. "You mean like Uri?"
After Broken Lines
Paul Bettany removes his flat-cap to reveal a monk-like shaved scalp. "I'm not bald. I'm doing a job. Honest."
In Trafalgar Square, 1928 – 2008
It's the open air screening of High Treason, a 1928 silent subtitled sci-fi being shown on an inflatable screen in front of Nelson's Column, with live piano accompaniment.
War between the empires of the Atlantic States and the United Europe is imminent as heroine Evelyn (Benita Hume) turns to her romeo Deane (Basil Gil) and asks, "Will it be war?"
The dapper dan comforts her, "Frankly, no. Now people are much too sensible."
The George Bush biog W. premieres around the corner.
Outside Hamlet 2
A woman bounds out of the cinema "I've just spent the entire film sitting next to a man who looks just like Saxondale. I'm freaking out!"
Before Genova Mr Darcy arrives for Genova and graciously starts talking to the cameras with an audible, "Hallo."
Two American women amble up.
"So is this like for famous people, then?"
"So who is it?"
"Ohmygod! That's Colin Firth!"
"Colin Firth!"
"Colin Firth!"
"Colin Firth!"
"He is so sexy! I can't believe it."
"Like, wow. Colin Firth. I can see a whole side of his face."
"Tonight I am so NOT going to sleep."
With One-Eyed Willy?
Two weeks ago Corey Feldman was at Raindance, now Josh Brolin is at the London Festival. That's a Goony a fortnight. Hey you guu-uuys … !
Next to Anvil!
The Canadian rock band Anvil arrives with an amp-less thunk. A few autographs, a stroll past some unhurriedly clicking press photographers and they seem ready to head in for the showing of their documentary. Then one of their long-term fans arrives to lend them moral support. He grew up in the same town where they were gigging; he's Keanu Reeves.
Ee. Rupp. Shon.
Looking genuinely pleased to see the band, Keanu shakes their hands and lines them up for more photos while trying to duck out as much as possible himself. Anvil's popularity comets as the black-bedecked rockers shimmer in the electrical storm of a thousand of flashes per second. Amid clamorous pleas Keanu then graciously ignores the PR chaperons and scoots over to the fans with a spring in his step and a big, humble smile on his face. Tom Cruise may work the mobile phones and Big Willie can try to mc, but you rarely get to see real star charisma on the red carpet. For a few minutes Keanu effortlessly turned that rug into a fun place for everyone.
A message, Bill? Be excellent to each other!
Share this with others on...