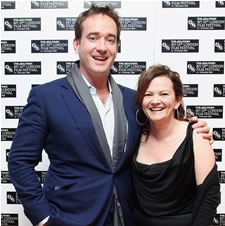 Matthew Macfadyen and Sharon Maguire before the European Premiere of Incendiary at the London Film Festival Photo: Dan Kitwood/Getty Images
On a snowy day at the Sundance Film Festival, I caught up with Sharon Maguire as she geared up for the world premiere of her latest film, Incendiary. It's early and she's still adjusting to the joys of jet-lag and the increased altitude, but that doesn't stop her fizzing with energy about the project. The story of a grieving mother (Michelle Williams) struggling to cope after losing her son and husband in a London terrorist attack, it marks a big step away from the fluffiness of Maguire's previous film, Bridget Jones's Diary.
"It's a romantic comedy about terrorism," she jokes, before revealing that it was a conscious decision to turn her hand to something completely different.
"It is quite a departure," she admits "but that's what I wanted to do. I said to any agent involved, can I stop being sent romantic comedies and can I be sent the opposite of it, please. So they really did send me the opposite of it. I was sent the book in manuscript form and I read it over Christmas. And it was such a shocking book to read. It was shocking and repulsive and it was funny and it sort of tapped into a lot of stuff that, I think, post 9/11 I was feeling.
"I had just had a baby, so you lose a few layers of skin about the cruelty of the world that you're living in and that you've brought your child in to. In a sort of hilarious way, you're constantly crying at the news. And I think it tapped into a lot of my sensitivities about the insane world we're living in. It seemed to me a peculiar world in which fathers commit suicide and mass murder in the name of the prophet or whatever it's for, as a protest against secular society, whatever it is.
"It seemed a kind of insane world and secular society was kind of reeling around and didn't know how to deal with this unseen threat. At the same time you find yourself thinking, well what is this secular world that we live in? It's hardly a model thing to defend."
The book, by Chris Cleave, was surrounded by controversy on its release due to a twist of fate that saw it hit the bookshelves on July 7th, 2005 – a day that became infamous for the London tube bombings. With real-life coming so close to fiction, the publicity wagon was quickly brought to a halt.
"It was a very curious time," admits the 48-year-old. "It certainly lived up to its title, being called Incendiary and being published on 7/7. It was very weird for Chris Cleave, because suddenly his books were being pulled off the shelves and a huge poster campaign and ad campaign was pulled because it seemed in bad taste. So he was in a very peculiar position and we were too, because we already had the rights."
Maguire had taken a break from filming for the birth of her son with partner, producer Anand Tucker.
"I was out in LA after Bridget, working on a film that did come out [Hitch] but I had to drop out because I got pregnant."
But after three years of bringing up baby, Maguire decided it was time to get back to work. And despite already owning the rights to the book, she says the events of July 7th altered everything.
"We can see Arsenal football ground from our window," she adds, "Anand goes there every Saturday and talks about taking our son when he's old enough. So that had tapped into my unconscious fears. But it was very much a 'what if' scenario when I began the writing process. Then 7/7 happened. And it was a very peculiar thing, and I thought that certain things that Chris talked about happening in the book came true and some didn't. It was like everything changed and everything stayed the same.
"He had put things in it like there would be curfews and that sort of thing just didn't happen. But, in a sense, everything did change after that. I didn't sit on the Tube for a long time after, I wasn't one of those brave ones that said, 'Fuck it, I'm going to get up and carry on'.
"Suddenly we were living in fear and suspicion of each other, of Asian and Muslim people and they of us and I think that's the terrible thing. Apart from all the obvious things that have happened since, such as sirens screaming everywhere and a fear of going to the Tube or public places, mass gatherings. The world isn't the same, we can't see the enemy. So the government and authorities are making mistakes. So we're going into wars where we can't actually see who we're attacking, so we think we'll just bomb them and we're bound to get some of them, it's completely insane.
"I just thought, the world's gone fucking mad. And we weren't even seeing the effects of these retaliatory wars on the news. We don't see kids dying and the moment the figures are something like 100,000 dead but, in reality, the unofficial figures are six times that. We're just not seeing it and I just thought that probably 600,000 mothers have lost their children, and I'm not even quite sure for what."
It's clear that Maguire takes a global view when considering the terror attacks, but the focus of the film is much tighter, showing how big events have shattering effects on ordinary people.
"In the characters there is a real mother, a policeman and a journalist and through that triangular relationship you can kind of see how the world has changed. The mother lost her child, which is the thing that's kind of overlooked all the time, that that strong bond and huge love that a mother has for a child is louder than bombs and so the book says something about 'if we could harness all that love as well as we harness all that hatred the world would be a different place'. It all sounds a bit Beatles' record and corny but it's kind of true.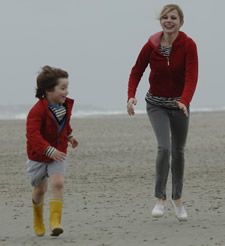 The film centres on a mum's love for her dead son
"Mainly the book and the film are about this mother's love for her child and the loss of that child. There is also a policeman, who is essentially a good man who wants to do the right thing but can't because he's got an unseen enemy and he has to make decisions that he wouldn't normally make and it gets him into trouble. Then there's a journalist who kind of represents the liberal thinkers in society. All liberal thinkers have had to reassess that attitude since 9/11 because the results of free association, free movement and free expression have put us all in danger in many ways, so everybody's had to rethink their position. They represent the world before 9/11 and 7/7 and then what happened afterwards, so that's what it's about."
Because the characters are complex and conflicted – Williams' character is having an affair with Ewan McGregor's journalist when her husband is killed, while hubby's policeman colleague Terrence (Matthew Macfadyen) is keen to get his foot under Williams' table (and his slippers by her bed) – casting the right actors was crucial.
"When I was adapting the book, and thinking the character of Jasper Black, who's is kind of a sleazebag journalist but who is also kind of likeable, I was thinking it's not going to be easy to cast this character because he's not entirely likeable. And I just thought there's only one person I think who could play this role of being so dysfunctional and so winning, because I think that's how he [Ewan McGregor] comes across. But he's very funny and he was brilliant to have around the set because he's hilariously funny. It's rather a dark film, a very intense emotional film, so there was quite a lot of gallows humour that got us through that and he's very good at that."
But, following on from her choice of American Renee Zellweger to take the lead role in Bridget, it is the casting of Williams as a London mum that Maguire is sure will get tongues wagging.
"I think everyone is going to say – if they say anything at all – is, 'Oh, you've chosen another American actress to play an English role'," she predicts. But in reality that is a long way from the truth.
"I had come to Michelle thinking that she was English because I'd seen Me Without You and thought, who is this brilliant British actress? Then I saw her in Brokeback Mountain at the Toronto Film Festival and I thought, 'Gosh she's done very well for herself, look there she is playing with Heath Ledger,' and I'd sort of kept her in mind. And somewhere along the line someone said, 'She's not English, she's American, haven't you seen Dawson's Creek?' And I hadn't because we haven't got that channel. But when we were on the streets of England filming, everyone knew her from Dawson's Creek.
"So I had her in mind and thought she's good and then, brilliantly, she'd just had a baby because I really wanted a mother, if possible to play it. So I spoke to her and she really 'got' the role and said yes immediately. A few months before, when the script was almost finished, I had come to the conclusion that, wouldn't it be a brilliant cast if we had Michelle Williams, Ewan McGregor and Matthew Macfadyen and then they all said yes. I was totally delighted, so I hope I haven't let them down."
Incendiary showed at the London Film Festival and is out on DVD now.
Share this with others on...