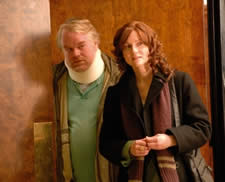 Philip Seymour Hoffman and Linney in the film
Looking at Laura Linney's film output, which includes everything from The Hottest State to The Truman Show and Love, Actually, it's hard to believe that she only moved from theatre to movies in 1992.
Several of her recent films, such as Breach and Jindabyne have had very serious dramatic themes, but The Savages - out in cinemas now - proves that she also has a deft touch for dark comedy.
The 43-year-old New Yorker plays Wendy Savage, who along with her brother Jon (Philip Seymour Hoffman) has to come to terms with looking after her elderly, sick and, until recently, estranged father (Philip Bosco), while trying to meet her own personal ambitions.
Writer/director Tamara Jenkins says the film is "personal, but not a memoir", and while it may not sound like a situation ripe for laughs, but Linney says it is the quirkiness that appeals.
"What I like about it is its very odd, eccentric sense of humour, and the fact that it's these three people in this situation," she says. "Subject matter like this could be very sentimentalised and not be good material to be told cinematically. But I loved the script.
"I know it's always a good barometer if I'm reading a script and I start working on it as I go along, subconsciously connections are made, ideas are coming. A lot of times scripts don't give you that and you really have to work hard to create something. This just sort of lifted right off the page. The tone was very tricky, but I found that very challenging too.
"Most people in their right mind would run in the opposite direction of this situation, or they'd want to. Who doesn't? The thing that sort of hangs in the air for me, with these three people in this situation, is how do you care for a parent who really didn't love you?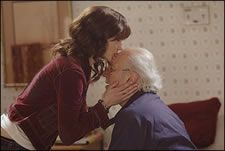 Linney plays Philip Bosco's estranged daughter
"The loss of any parent, even one you loved, who was good to you and you were good to them, there's a naturalness at the end of someone's life if the relationship was fulfilled. But when you have a relationship that was never fulfilled, that was never really there to begin with, what do you do with it?"
It has taken just over a year for the film to reach the British multiplex since it premiered at Sundance to critical acclaim. Since then it has gone on to be vie for a slew of awards including Oscar nominations for Tamara Jenkins' screenplay and Linney's performance.
When asked if there is a lack of roles for women, however, Linney seems to disagree.
"There are not many roles, it's true," she says. "This is such a tricky topic to navigate. It depends on what you want, if you're someone who only wants an A list acting job, who only wants to be paid millions and millions of dollars, they're not there. If you are willing to look outside the box, there's more.
"I'm not saying it's there for everybody, of course it's not Fortunately for me I'm not terribly calculating about my career. There's only one thing I've really done on purpose and that is to spread my net as widely as possible, to not be afraid to work on radio, on stage, on a sitcom or a drama, knowing that I wanted a full life in the arts. I teach to try and do as much as I possibly can. I think that makes me a better actress, I'm never bored and I'm – hopefully – never spoiled. I don't take anything for granted. It keeps me on my toes, and hopefully it will give me a longer life in what I do."
And - after receiving critical acclaim from films including Noel Baumbach's The Squid And The Whale, Mystic River (scripted by Brian Helgeland) and Bill Condon's Kinsey, she is adamant that you don't have to be female to create strong female characters.
"There've been a lot of great female roles written by men, You Can Count On Me [scripted by Kenneth Lonergan] was pretty damn good, Kinsey was pretty great. The Squid And The Whale was fantastic.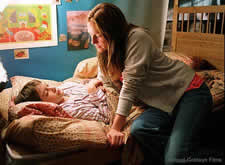 Linney in The Squid And The Whale, which was took four years to be made
She adds: "I'm lucky also, these are films that worked but we had to wait for all of them. It took years to get all of them made. The really good work always takes a while to get made. Squid took four years, Kinsey took four years, this movie they wanted to re-cast us.
"The film could have easily been made with other actors, and I know they had many offers to finance the movie very quickly with a much bigger budget if they replaced Phil and I with other, more commercially dependable people. Which I sort of understand. I'm so deeply grateful to both Tamara and the original production team for wanting us both. I can understand not wanting me but not wanting Phil Hoffman, when he was about to win the Oscar [for Capote] is just the stupidest thing I've ever heard of."
Although Linney's role at the heart of The Savages, yet again sees her take on a role within a dysfunctional family, she says this is merely coincidence.
"I think if you scratch the surface on all good drama it's either about family, sex or religion," she says. "Any one you scratch it's going to be about one of those three topics. They're sort of intertwined, you can't really get away from any of them. I think we're all a little self-obsessed at the moment, everybody's looking inward at who we are and why we are, and that tends to lead back to the family."
Self-obssessed we may be, but does Linney ever contemplate getting old herself?
"Oh sure, of course. I'm going to the Actor's Home in New Jersey, The Edwin Booth Acting Home. I want a corner room, I've told everybody I'm going. I've spoken to the people about it. It's going to be crowded there, but I want to be around all those crazy old actors when I'm old."
With her workrate as high as it is at the moment, it looks as though retirement is still a very long way off.
Share this with others on...