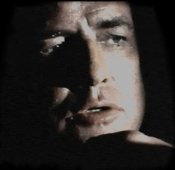 "The Horror" - Turner Classic Movies documentary Brando
Having just about thawed out from Sundance it was particularly gratifying to see the sun was shining when I arrived in New York for the Tribeca Film Festival. Of course, any visit to the States would not be complete without a tale from the immigration station - and this is no different. George Bernard Shaw said that Britain and America are two nations, divided by a common language. It seems, after my latest waltz with officialdom that we are also divided by a common alphabet.
Travelling on a journalist's visa means that immigration ask who you work for... simple, yes? Well, not quite. Eye For Film I said. The inevitable happened - and he wrote down the letter 'i'. Deciding spelling things out would be simplest, I said: "No, eye as in E-Y-E." He writes? "EYA", "no", I say "Eye - E-Y-E" this goes on for some moments as we reach a Mexican stand-off over vowel sounds. Eventually, he frustratedly turns the card round, saying "Madam, this is what you are saying and, at last, I think of an alternative - "Like the eye on your face," I say, light dawns and I enter the land of the free with sanity almost intact. Although making a mental note that northern vowels are not to be encouraged round these parts.
But, to the films. Day one saw me turn up bright and early at the press office, collect my pass and head for a screening of Brando - a documentary on the man whom many attest changed the way actors act for good. I was particularly curious to see it having previously watched the Marlon Brando interview segment of the Mayles Brothers 3 Shorts, which shows him charming the pants off a series of interviewers.
The film features testimony from the great and the good of Hollywood, from Al Pacino and Martin Scorsese to Ed Begley Jr and Jane Fonda - talking about the man they all seemed to love, despite his faults. It was a fairly revealing portrait, although holding back quite a bit on the negative side of things, what comes across is Brando's vitality, inventiveness and natural talent. Noticable by his absence was Francis Ford Coppola who, after Apocalypse Now, one presumes has little positive to say about the icon.
Not a perfect documentary, but a very solid and illuminating one, which also features a chunk of testimony from some of his kids. Worth seeing for Ed Begley's description of being called out to his house in the middle of the night to talk about how he wanted to use a pool full of electric eels to power his house.
A quick half sandwich later and it was back to the screening room for Dam Street director Yu Li's latest, Lost In Beijing. An excellent, if dense, story about a woman and her husband who embark on an elaborate quadrille with her boss and his wife, involving sex, money and a baby. As much a story of the materialism of modern Beijing as a story of relationships, it features several sex scenes which are, presumably, what caused China's Film Bureau to kick up a stir over its screening in Berlin, apparently initially demanding a raft of cuts before letting it be screened. Ultimately, however, it seems to have dodged the scissors. Although two of the three sex scenes are deliberately uncomfortable they are so crucial to the plot, that this is a great relief.
I imagine it will play well at festivals and wouldn't be surprised to see it get some sort of eventual arthouse release in the UK.
Screenings over it was time to head up to the opening night red carpet to see if the stars would come out for the launch of the SOS short films - linked to Al Gore's Live Earth push. About which, more later.
Share this with others on...