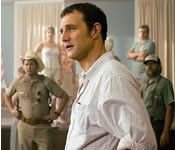 David Morrrissey as Doug Blackwell
When it comes to acts of God, The Reaping has plenty to spare - from plagues of frogs to rivers of blood and beyond. But the set of the thriller, shot in Louisiana, was nearly hit by what many have called an act of God itself, Hurricane Katrina.
British actor David Morrissey, who stars alongside Idris Elba and Oscar-winner Hilary Swank in the movie about a scientist who travels the world trying to debunk miracle claims, says they were lucky enough to escape the hurricane itself - but clearly remembers the aftermath.
"We were filming in Baton Rouge, the State capital of Louisiana. Everyone was quite blasé about the hurricane, saying they held parties and stuff. But then it became apparent this was different from what had gone before.
"Baton Rouge escaped physical damage but it had to cope with the refugee problem. Obviously there was a political debacle. What I saw was a lot of people who were just helping out one another. Everyone had an open door policy."
When it came to the actual shooting of the movie, it seems there was an open swamp policy as well - with the Liverpudlian actor, who plays small-town schoolteacher Doug Blackwell, who calls on Swank's Dr Catherine Winter for help after a river runs with blood, having to get up close and personal with the local wildlife.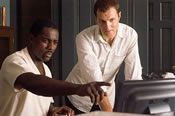 David with Idris Elba
"My character dives into this swamp," says David. "They told me that they had cordoned it off.... but I wasn't sure whether the snakes knew that or not. There was algae and stuff in the water and whenever I had my head under it I was worried about what was going up my nose."
The 42-year-old is best known in Britain for his small screen work in BBC TV series Blackpool, but he has had an increasing presence on the big screen, thanks in part to his role alongside Sharon Stone in Basic Instinct 2. Although that was also a thriller, it was much less reliant on special effects than The Reaping - which comes loaded with CGI eye-candy.
"In a very geeky way I was into all that," says David. "It's a very different arena for me. I was very hungry to know how that worked. We also did a lot of stuff on location and in the studio. We had to do some motion sensitive stuff, too, so that if they wanted to they could add on locusts later."
But the real-life locusts were more luke warm than swarm.
"We had a guy who came in with two crates of locusts," says David. "But they didn't want to play. They were like, 'my trailer's not big enough'. They opened the crates and a few of them flew around a bit and then they went and got some coffee."
The locusts may not have been very keen to work on the film, but Morrissey certainly was.
"It's a genre picture. I read it as a thriller. The main characters have a puzzle that they have to solve. By the time they get to the fifth of the plagues, the audience know the clock is ticking at they only have five left to work it out.
"I thought that it was a very timely piece of work. Darwinism and creationism versus science and religion. She (Swank) is a missionary, with her husband and her daughter, spreading a message. A tragic thing happens and she turns her back on that world completely and starts debunking miracles. She has a crisis of faith."
Morrissey - who was brought up Catholic but has since lapsed - seems to think faith is a personal thing.
"You have to have some sort of spirituality," he says. "The scientific world requires morals."
As far as his own faith goes, he adds: "You took the good things from it. I didn't like all the hocus pocus."
He might not like hocus pocus but his career seems to have had a little bit of magic sprinkled on it lately, with plenty lined up on the big and small screens, including Loch Ness monster fantasy The Water Horse: Legend Of The Deep, costume drama The Other Boleyn girl, alongside Scarlett Johanssenn and Natalie Portman and an eight-part drama series for Channel 4, called Cape Wrath. Morrissey says it's the variety that appeals.
"I like to mix it up. I really like to do both. I love British telly - when it's good it is the best in the world - and it has given me such a lot."
But right now, it's not films but football that's making him nervous. A Liverpool fan, he's already fretting about how they'll do in their upcoming Champions League clash against Chelsea - a reprise of the 2005 semi-final which saw Chelsea go out after a controversial goal.
"I'm a big Liverpool fan," he says. "I have quite a few Chelsea supporter friends who don't believe the goal in the last semi-final. I'm nervous, but I'm worried that Joe Cole will be back, he always plays well against Liverpool."
Like his character in the film, it seems, he's just going to have to have faith.
The Reaping opens on April 20 in the UK, for further information on the film, visit the official site. Plus get your hands on a goody bag from the film in our current competitions.
Share this with others on...