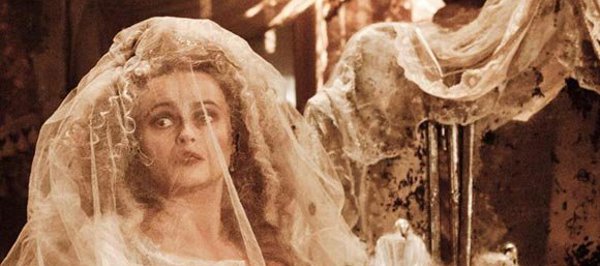 Helena Bonham Carter as Miss Haversham in Mike Newell's Great Expectations
With the drizzle in full flow, last night's gala screening of
Great Expectations
could have been a case of Bleak (front of) House, but the dark skies were no match for our brightest stars at the closing event of this year's BFI
London Film Festival
.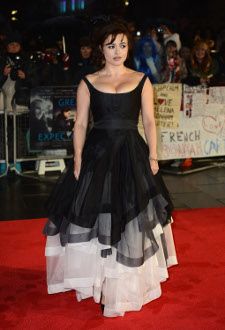 Helena Bonham Carter on the red carpet Photo: Gareth Cattermole/Getty Images for BFI
Helena Bonham Carter made an early entrance, looking resplendent in a dramatic monochrome multi-tiered dress that Miss Havisham would surely have approved of. And Holliday Grainger, who plays her young protégé Estella in the movie, told Eye For Film what it was like to work with the legendary actress, who was recently awarded a BFI Fellowship: "She's a lot of fun to act alongside, because she brings something fresh all the time… it always feels like she's experimenting, so to work alongside that gives you a little bit of confidence to feed off it and experiment yourself."
Meanwhile rising star Jeremy Irvine, who shot to fame in Spielberg's War Horse, turned up with his younger brother Toby and revealed how they both came to play the lead role of Pip: "We were at a party and the casting director Susie Figgis was there, saying to my mum that she couldn't find a young version [of me]. And my mum said, 'Well, we've got one at home…' He went through the auditioning, still; he had to work for it!"
Other stars to walk the red carpet included Ralph Fiennes, Robbie Coltrane, David Walliams, Tamzin Outhwaite and Jason Flemyng. Director Mike Newell was also in attendance, as was screenwriter David Nicholls, who told us more about his take on the classic story. "It's my favourite novel, so I didn't want to muck it up. I wanted to stay faithful, but you can never be entirely faithful – you've always got to cut things. I've tried to be true to the book, but also to present a slightly different Dickens; a Dickens that is less over-the-top, less caricature, less gothic; still thrilling, still exiting, still dark, but also romantic, funny and moving."
Nicholls also denied rumours that his next project will be the hotly anticipated Bridget Jones 3 (currently listed on IMDB as Bridget Jones's Baby): "It's not Bridget Jones 3 – that's a bit of a myth. I did a tiny bit of work on the script just for two weeks, but I'm not the next writer on that. I am doing a love story for television, a two-parter which we're filming in the spring."
Share this with others on...