Eye For Film >> Movies >> Winter On Fire (2015) Film Review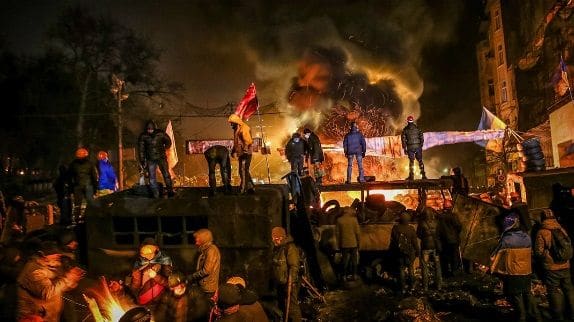 Hot on the heels of 2014's excellent Maidan comes another documentary looking at the civil unrest that took place in Ukraine between 2013 and 2014, and although it incorporates footage from many of the same events, it's about as different in character as one can imagine. Where Maidan was observational and immersive from the start, Evgeny Afineevsky's film never lets us forget the presence behind the camera and, despite featuring a good number of different interviews, feels like a heavily filtered version of what happened.
For the average viewer, Winter On Fire will be much more accessible. Its familiar approach tracks individual stories; most interviewees are distinctly middle class, students or artists with Western taste in clothes and a rather sheltered outlook on life, at least before the violence starts. There are a few more interesting ones, however: a street kid takes advantage of the community facilities emerging in the camp to get an education and develop some work skills; a retired soldier steps up to train the protesters in the art of resisting an assault. We briefly meet a member of the clergy and the important point is made that the religious support offered to the uprising was designed to be inclusive and non-denominational.

What these stories present us with is a portrait of a movement full of innocence and light, where everyone is present for the noblest of motives. That's doubtless true of many, and the film catches some of the shock as lives were lost, but it's rather uncomfortable watching a take on the uprising that completely elides the presence of the far right within as well as outside the borders of the movement, with all the political discomfort that created.
Afineevsky offers us ideological purity and, by contrast, bad guys who were never to be trusted. This dilutes some of the horror at what the security services and their allies did do, and it also overlooks what's genuinely scary about this bit of history for those who themselves engage in political demonstrations - the fact that early, casual acts of brutality are not much different from what one might expect on a march in London or Los Angeles, yet somehow they go on to cross a line, to become something much more dangerous. It's the subtlety of that shift that makes the story salutary, but in Afineevsky's film we miss the transition altogether - instead we get exclamations of shock from young people who suddenly realise that guns are being fired. This is a Jerry Bruckheimer approach to televising the revolution.
Winter On Fire is only Afineevsky's third feature length documentary and it fits the Netflix template so neatly that one wonders how much creative control the young director really exercised. If you're a newcomer to the subject then it will successfully fill you in on some of the facts behind Viktor Yanukovich's departure and Ukraine's progression to a fresh phase of political difficulty, but it's hardly sufficient as a proper introduction - for too much of its running time it's all gloss and no substance.
Reviewed on: 08 Dec 2015
Share this with others on...