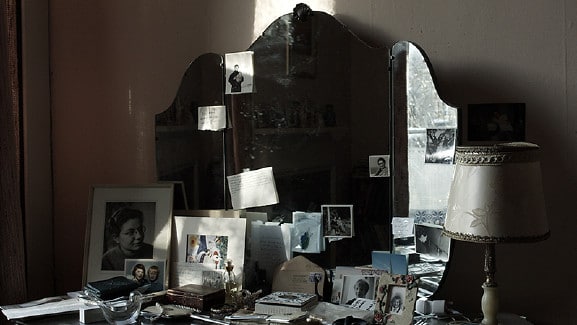 Erica Thomas died in 2004. She was an ordinary woman and, as far as her descendants knew, she had lived an ordinary life. But Erica had lived through extraordinary times and been closely caught up in events that changed the world. The extensive records she kept – personal writings, photographs, mementos and more – give an intriguing insight into England's involvement in the Cold War, along with a devastating perspective on the treatment of talented women.
Narrated with grace and slowly building melancholy by veteran actress Siân Phillips, Voyageuse takes us from Hungary in the first few years of the Twentieth Century to the private schools of England, where the young Erica tried desperately to fit in. Still photographs capture the sort of iconic imagery that stands out to immigrants and amateur historians alike: postboxes, bicycles, quaint cottages, leafy village lanes. Later, early cinefilm shows her with her children, so much a part of an imaginary landscape that she still seems as if she's acting. Is this what an Englishwoman is supposed to be? In between lies a career in science. Assorted obstacles. A jealous brother. Opportunities predicated on the understanding that, as a woman, she'll be grateful for any opportunity and won't make a fuss. The flip side: in that position, it doesn't really matter what she sees – who could she tell?
Erica contends that she got as far as she did because she was naturally submissive; nobody expected her to rock the boat, and she didn't. But despite the self-loathings this seems at times to inspire in her, her writing also demonstrates a keen awareness of injustice and a clarity of thought that is often overlooked in such people. In failing to take action, she did not cease to be a witness. Her descriptions of some of what she saw done to young soldiers – by their own side – are all the more chilling because her sense of helplessness reflects that of the average viewer at too great a distance to intervene. The sobriety of her narrative and her attention to detail, mirrored in Thomas' choice of illustration, gives her a good deal of credibility.
Despite the particular nature of her narrative, Erica also becomes a voice for a generation of capable women whose potential was squandered due to prejudice or a desire to defend the status quo. The disinvestment in girls' education, the lack of academic support, the trivialising of those academic interests and successes that prevailed despite this, and then the expectation that with love would come marriage, motherhood, and the abandonment of any kind of career. Thomas contrasts the frustration, the developing depression in Erica's words with the snapshots and home movies that capture the illusion of domestic bliss, a world in which it's always summer and daddy will always return home to laughter and smiles.
In a society which no longer provides much in the way of grave goods, all we have in the end are the records we keep for ourselves. Erica's life may have been modest, but her testimony, and Thomas' film, would make many a pharaoh feel poor.
Reviewed on: 10 Mar 2018
Share this with others on...