Eye For Film >> Movies >> Venus In Fur (2013) Film Review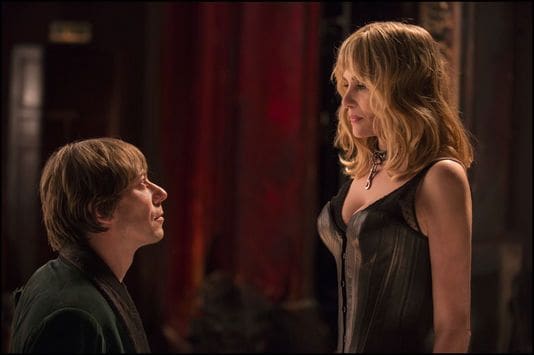 At the very start, Roman Polanski's thrashingly exciting chamber piece Venus In Fur (La Vénus à La Fourrure) evokes the death of the great Austro-Hungarian playwright Ödön von Horváth, who was hit by a falling tree branch one stormy day on the Champs Élysées in 1938 in front of the Théâtre Marigny. He might be our segue to Austrian author Leopold von Sacher-Masoch, whose 1870 novel not only inspired Polanski's film and the 2010 play by David Ives, but gave masochism its name.
Using a similar framing device as he did in Carnage, where Brooklyn Bridge Park becomes gateway to the sealed-off world the spectators are about to enter, in Venus In Fur, Polanski drops us into a theatre where a Belgian production of Stagecoach - The Musical, had left behind their western set plus a cactus. Frustrated director Thomas, played by Mathieu Amalric with sparkly confusion and Polanski's haircut, has almost given up casting the heroine of the play he adapted from Sacher-Masoch's Venus In Furs.

Emmanuelle Seigner, in an audaciously funny, slinky, and menacing performance, shows up as Vanda, and convinces Thomas to read the play with her. Seigner authoritatively shape-shifts into and out of the fictional skins, from present day actress, desperate for an audition, to Olympian goddess, and from 19th century Austrian noblewoman to a most hilariously seductive combination of Marlene Dietrich and Judy Holliday.
Remember the second paragraph of Franz Kafka's Metamorphosis? "Above the table on which a collection of cloth samples was unpacked and spread out—Samsa was a traveling salesman—hung the picture which he had recently cut out of an illustrated magazine and put into a pretty gilt frame. It showed a lady, with a fur hat on and a fur stole, sitting upright and holding out to the spectator a huge fur muff into which the whole of her forearm had vanished!"
Just like Gregor Samsa, who turned into an insect one morning, Thomas gets to live out his treasured nightmare of choice with the actress Vanda, who shows up out of breath for an audition in black leather, stockings, and a rain-soaked woolen knitted scarf replacing the fur stole.
"I've seen 35 idiot actresses who all sound like ten-year-olds," Thomas complains on the phone to his girlfriend, who remains unseen throughout the two-person film. Vanda, wearing a dog collar, tries to convince the reluctant director to let her audition - she played Hedda Gabler and brought a white dress from 1870 along.
Seigner is wonderfully playful and her bold risk taking shows how much she trusts Polanski. And also in reverse, Polanski showcases all of her talents. Gum-chewing, language-spitting in one scene, she becomes a statue of poise, restraint and authority from the Austro-Hungarian Empire in the next, and makes you wonder if she might eventually turn into the demonic character she played in Polanski's The Ninth Gate.
Thomas explains that the scandalous book is "one of the great love stories" while Vanda does her gurgling voice exercises. When the levels of reality clash, Venus In Fur is at its best because Polanski's timing is so light on kissed feet.
"In a brief moment, she made me the man I am," Severin/Thomas recounts, playacting a childhood memory of eager degradation and pain. Vanda slips out of character and calls it child abuse and his demeanor turns prickly that "everything is a stupid social issue," these days. "Would you be my slave?" tempts the response that "already I am." "Dominate me!" is followed by "that's absurd!" As the frustration mounts, in close-ups of flesh and zippers, so does the pleasure. "How can you play her so well and be so dumb?" Ultimate punishment is throwing away the other's phone and Polanski relishes in the scene as he did with Christoph Waltz in Carnage.
Psychiatrist Richard von Krafft-Ebing coined the term 'masochism' in line with Severin's desires. Ives' play and Polanski's film set the stage on a stage in New York and Paris, respectively. How Thomas transforms into Severin, how the writer/director encounters his fantasy, and why the result can never be as planned, are some of the questions Polanski explores. The deeper we enter into the fantasy with the intense Amalric as our guide and the enchanting Seigner as our conscience, the more the boundaries of power structures blur.
Reviewed on: 22 Apr 2014
Share this with others on...