Eye For Film >> Movies >> Under The Wire (2018) Film Review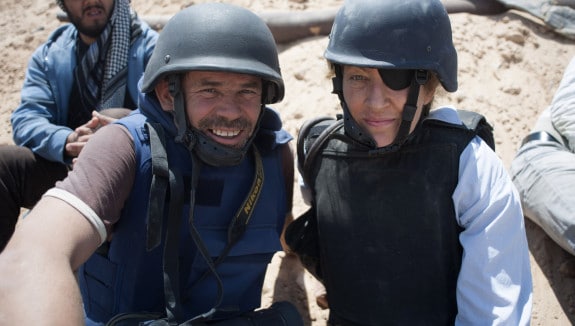 Sunday Times journalist Marie Colvin and photographer Paul Conroy went into Syria on the 13th of February 2012. Nine days later she was dead and his life had changed forever. This film, based on Conroy's book, attempts to explicate what happened.
In the beginning, it's dark and confused. If you've followed coverage of the conflict you'll have seen a lot of footage like this - it's the reason why war correspondents remain important because seeing things as they happened doesn't necessarily shed much light. Director Chris Martin addresses the problem with talking heads and elements of dramatic reconstruction, with Janine Birkett and Julian Lewis Jones playing the two leads and Ziad Abaza as local contact Wa'el. The extensive interview material gives the film a dry, journalistic tone, but it doesn't want tor emotional impact.

The experience of war correspondents is poorly understood. Soldiers sometimes complain about them and they can come across as an unnecessary obstruction. Under The Wire not only illustrates the dangers they face but explains what they're doing there through the powerful story of the Widows' Basement, a building housing women and children who were desperately seeking shelter from the shelling. In the nine days she spent in Syria, Colvin's extensive reporting from this building became worldwide news; it has since been credited with saving the lives of many of those inside, who would have been killed if the world had not been watching. In doing this, Colvin also provided protection for a doctor who worked long hours with only the most basic of equipment to save many more people; he would continue to help the residents of Homs long after she was gone.
Martin's film is stronger because he doesn't position Colvin as a clear-cut hero. There is talk of the borderline obsessive way she fought to control the story, her own career prospects also a major consideration. A brief early comment about her refusing to work with another photographer because of his sexuality makes one wonder how difficult she might have been as a person, but her courage is nowhere in doubt. Though Conroy has foregrounded her story, neither is his, and when we reach the part of the story where all hell broke loose as an unofficial press room, was shelled, it is the more subdued account of his fear, his injuries and his desperate escape that proves most compelling.
The latter part of the film, which brings in the stories of other journalists caught up in that situation as they sought to escape the city, is the most dramatic. Having built Colvin up into such a dominant figure, the film suffers a little from her absence but the narrative is complex enough to carry the viewer along. There is still some dispute about exactly what happened to her and the matter may yet come to court, with the Syrian government denying charges that journalists were deliberately targeted in an attempt to keep its activities in the city a secret, but Under The Wire makes a strong case for the truth of Conroy's account.
Reviewed on: 10 Nov 2018
Share this with others on...