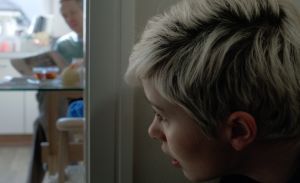 Allie is going to her dad's. There's more to it than this, more drawn in details like thread and guitar strings, unfinished homework, awkward questions.
Charlotte Wells has, with the aid of a brilliant central performance by Megan McGill, created something striking. McGill may be familiar to viewers of children's spy thriller series MI High, but on this smaller canvas her talent is ably displayed.
This is something still and small and sad, a short that does what the best shorts do, use every moment of the space that it's afforded to create something on screen that convinces and transports. It hovers just on the right side of explanation, letting audiences discover as the day unfolds. If it has a fault (and that's uncertain) it's in the balance - there could be more, or less, and either would create something different, possibly stronger. As it stands that perceived imbalance probably works to the film's advantage; it is unsettling, uneasy even, in its progress.
At 2017's Glasgow Short Film Festival the jury singled Tuesday out for special mention, amongst strong competition. A small, delicate thing of beauty, Tuesday is a film that will stay with you for weeks.
Reviewed on: 21 Mar 2017
Share this with others on...