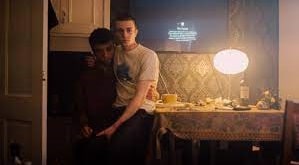 Too Rough is. I am ever given to complaining about the way that titles are translated or changed, but in two words Too Rough finds places to keep so much depth and meaning that when it breaks your heart you know it isn't finished. "I don't think I'm gay enough to be here," and in that too there are volumes. Charlie goes back to Nick's. This is not the usual pattern.
There are other performances, but it's those two, their intimacies, their physicality. "God is watching," but so are we. Detail everywhere. Wine bottles. The sheen of sweat. A shoulder recoiling from a kiss. The sudden reoccurrence of swearing, the West of Scotland's favourite gerund arriving with the regularity of Old Firm league titles. It won an Audience Award at the 2022 Glasgow Short Film Festival and was screened as part of the ceremony. Watching it again I find myself moved to tears at the same points despite knowing they are coming. In ratio and balance it is a thing perfect. There is so much in every look and gesture. There's an eye obscured by a duvet diagonal that brings water to mine. There's a moment where there are hands over ears and off-screen dialogue is diegetically dulled and my own heart stops.
Sean Lionadh writes, directs, edits, and is more than deserving of his award here. Ruaridh Mollica and Joshua Griffin produce astonishing performances. There is as much and more detail in each of their expressions as is implied by the burnt potato smiles, the tea caddy of Charles and Diana, the screens that are cracked and those that register no signal. Eloise Kretschmer's score builds us to hangover, to realisation. Thomas Palmer's production design is pitch perfect. The too washed pint glass that becomes one that might not be washed enough is one of a thousand things, crushed cans and the purple of a pre-pay meter. The baking tray wrapped in foil and the dome around Mary, the pristine, the serene, the protection of the innocent.
"That's deeply inappropriate" might be nearly the first words we hear but it's as much a signal as anything else. The red of the kitchen, the blue of decision, the harsh white of day. I've watched it more times than almost anything else this year, leveraging access through the online festival portal to be wrapped up in it again. This is not Lionadh's first film, but its poise and absolute conviction belie that it's just his fourth. The sense of claustrophobia it generates is not only of the physical but the social, the sexual, the familial. Layer upon layer all pressing closer, tighter, and in the centre of it ever more pressure. From such things are diamonds made, and this is indeed a gem. It is some 16 minutes long but every facet is cut crystal clear. It takes a minute to establish the party, a spectrum against the wall. It takes a minute after the transition from a warm red to an icy blue. "Do flowers die there?" is a colder question than it might seem. We get new context, less unfolding than exploding. "I'm God's best pal," we're told, but again and around there isn't. At the end, and I have watched it again and again, it's in the eyes. A set of them. A set to them. I can only hope that you can meet them to look upon them too.
Reviewed on: 26 May 2022
Share this with others on...