Eye For Film >> Movies >> Thunder Rock (1942) Film Review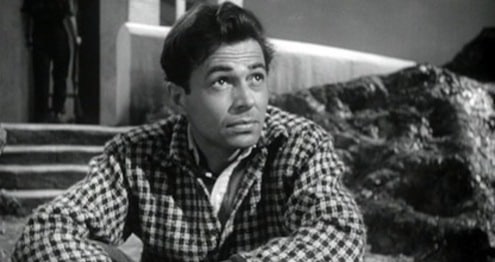 1939, on the Thunder Rock lighthouse, off the shore of one of the Great Lakes: having failed to convince others of the fascist threat, journalist David Charleston (Michael Redgrave) has given up on life and adopted a hermetic existence. Haunted by spirits from a ship that sank off the rock some 90 years before, with all hands lost, he comes to realise that everything his visitors sought has come to pass and that he himself has abandoned hope too soon.
In retrospect, the Second World War and its immediate aftermath can be seen as a golden age for British cinema. Directors as diverse as Humphrey Jennings (Fires Were Started, Diary For Timothy) and The Archers (Life And Death Of Colonel Blimp, A Canterbury Tale) produced films that were remarkable in themselves and all the more so for being made in the service of propaganda.

As with The Halfway House and A Matter Of Life And Death, the Boulting Brothers' Thunder Rock presents the familiar wartime device of using ghosts from the past as counsel for the present, thereby, no doubt, providing a comforting assurance of an afterlife for those living under wartime stresses.
While the final reconciliatory up-beat resolution of a film like this is rarely in doubt, it's the process by which the filmmakers take us there that matters most nowadays.
Too often, old propaganda pieces entertain as much for the crudity of their message - "we" are good and right, "they" are bad and wrong - as for their intrinsic qualities, or lack thereof.
Thankfully, Thunder Rock treats the question of "why we fight" with somewhat more subtlety and ambiguity than might be expected and impresses as a well-mounted piece of cinema. True, some of the techniques have dated a touch, not to mention the cringe value of remarks about the need to preserve the British Empire, but these are hindsight observations, insufficient to overcome the many honest accomplishments.
Only the opening sequence, in which a succession of bank clerks take the credit for discovering the source of a discrepancy in their accounts, as Charleston's failure to cash his past six pay cheques, jars. It's not that it is in any way bad, merely an unnecessary inclusion that doesn't connect to the main story particularly well. Nonetheless, as a demonstration of the Boulting Brothers' politics, that combination of commitment and cynicism, later to be demonstrated in the likes of I'm All Right Jack, it's instructive.
A surprise recommendation for those who can look beyond the latest and greatest contemporary Hollywood propaganda...
Reviewed on: 10 Jul 2003
Share this with others on...