Eye For Film >> Movies >> The White Countess (2005) Film Review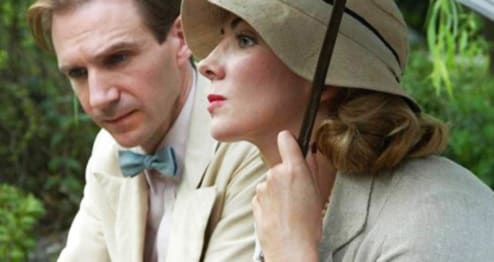 Notable mainly for being the last collaboration of director James Ivory and his recently deceased producer Ismail Merchant, The White Countess is a turgid, gelatinous epic that fails to find its feet until the tumultuous final reel.
Set in Shanghai in the Thirties, on the eve of the Japanese invasion, the movie centers on Todd Jackson (Ralph Fiennes), a blind American diplomat, closed off from his past and with an uncertain future. A lucky win at the track nets him the funds to build his fantasy nightclub and a chance encounter supplies his hostess and muse - Countess Sofia (Natasha Richardson), a widow and Russian exile, with a 10-year-old daughter and a quartet of dependent relatives.

A melancholy, mysterious blonde, whose air of tragedy Jackson hopes will add glamour to his club, Sofia is happy to abandon the taxi dancing and occasional prostitution that has been feeding her ungrateful family. As we wait - and wait - for romance to develop between the prickly pair, Ivory and his screenwriter, renowned novelist Kazuo Ishiguro (The Remains Of The Day), fuss around with damp political intrigue and distracting subplots. A sinister, well-connected Japanese businessman, named Matsuda (The Last Samurai's Hiroyuki Sanada), flits in and out of the club to engage Jackson in enigmatic conversations, while Sofia's viperish old mother-in-law (Lynn Redgrave) makes heavily-accented attacks on Sofia's ability to be a good mother - what with her working all hours to feed them all.
With no fewer than three Redgraves, plus acclaimed cinematographer Christopher Doyle (Wong Kar-wai's right-hand man), The White Countess should have had at least a fighting chance. But the unfortunate combination of an unfocused script, shockingly disconnected leads and a story that manages to skip an entire year without any narrative development, results in a movie with barely a discernible pulse. Ivory struggles to whip up romantic tension, but Fiennes, who inexplicably added his character's blindness himself, resists the call of the heart, until Japanese bombs force him to reassess.
Disappointing and dull, The White Countess feebly concludes one of the most prestigious partnerships in cinema history.
Reviewed on: 15 Mar 2006
Share this with others on...