Eye For Film >> Movies >> The White Countess (2005) Film Review
The White Countess
Reviewed by: Chris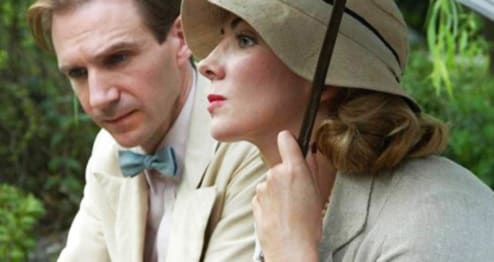 The dreams of two unlikely strangers form the basis for this sophisticated drama - one from a world that has been lost and the other from a world that has yet to be found.
Snowflakes fall mysteriously in a grand ballroom somewhere in Russia, echoed in the mind of a beautiful girl in a slum district of Shanghai 1936. Natasha Richardson is a countess, fleeing the Bolshevik revolution, making a living any way she can to support her family. This means working in shady dance halls as a taxi-dancer (and presumably, occasionally, as a prostitute). Her five family members (all older except for a young daughter) loathe the shame she brings on them but have no other means of support.

Ralph Fiennes is a disillusioned US diplomat. He has helped the formation of the League of Nations, is a successful business man and a hero to the Chinese nationalists, but has seen all the best efforts to have people live in peace come to nought. Shanghai is full of political tension - just before the Sino-Japanese war. Fiennes finds solace drinking in lowlife bars and avoiding what he sees as the hypocrisy of those that hold him in such high regard.
A vast amount of talent has been poured into this film: it is the final collaboration of Merchant and Ivory (Ismael Merchant died shortly before final production), the screenplay is by award-winning novelist Kazuo Ishiguro (who worked with them on Remains Of The Day), the other crew are top notch and the cast also includes both Lynn and Vanessa Redgrave. Yet there is no easy conclusion when asking whether it is a major triumph.
The film has a pervading sense of the unexplained, which continues for its whole length (more than two hours), so piecing the plot together is not easy. The politics of the time and place are probably not familiar to most audiences, and the bewildering array of nationalities does not help.
Ishiguro's talent is for transcending the material content and taking us into the world of ideas, but it takes most of our concentration to accept the material idea of Shanghai 1936 (which, although painstakingly recreated, often feels like a film set inhabited by a well-known English cast). Not surprisingly, there may be little energy left over for more cerebral imaginings.
Fiennes is an American, Richardson and the Redgraves are Russian - even before we meet the Jewish neighbour, the French Consul, a Japanese nightlife connoisseur - and none of the main characters (or actors) are Chinese. But then the ideas are not particularly Chinese either - Shanghai is nothing more than Ishiguro's canvas.
Prising out the dreams gives us some clues. Richardson (Sofia) is no tart-with-a-heart. Their Jewish neighbour, also a refugee, has fled such horrors that mere verbal insults (the worst he has to suffer in Shanghai) mean nothing to him. But Sofia's family are less self-assured. They dream of a decent existence, but Sofia has the greatest moral fibre, in spite of her job. She receives the respects of a Russian Prince - now working as a porter. She warns Fiennes (Jackson) - who is also blind - of a hidden danger and gains his lasting respect.
Jackson has noticed that in the dance halls there are no politics. He longs for a nightclub where people of any political persuasion can relax and mingle freely. Like Sofia, he is tarnished by all the rules of the real world, but his aspirations are higher than his outward lifestyle and the 'bigger picture' of those that would judge him.
Early in the film, Sofia says to a co-worker, "All of us here have to fall in love from time to time to feed our children," yet the film turns many ideas of 'love' on their head before it reaches its (thankfully) emotionally resounding climax. Equally ironically, Jackson speaks of the "vague promise of an intimate encounter" (in an ideal nightclub) when the reality is that merely the vague dream of any intimacy of feeling is the most either he or Sofia feel they could even hope for.
As a meditation on the commonality of death and sex and of the impotent struggle of goodness and taste against the wars that mankind seems addicted to, The White Countess has much to offer. The image of Fiennes in overcoat and bow-tie, calmly pouring brandy as the bombs fall around him, sticks in the mind like the scream of a child. Director James Ivory could have underscored such moments to much greater effect if he hadn't allowed them to be swallowed in a complex story and an unfamiliar period of history. Fiennes' character seeks some political tension that stops short of violence, but his character - and the film - often lack that very quality.
What seems at first like instant noodles, badly re-heated, holds more sustenance than most will sadly give this film credit for; and if it is a triumph for the Merchant Ivory/Ishiguro team, it is one, like its characters and their dreams, so heavily flawed that the aficionados who draw anything from it may well be accused of an over-active imagination.
Reviewed on: 30 Mar 2006
Share this with others on...