Eye For Film >> Movies >> The Vampire Lovers (1970) Film Review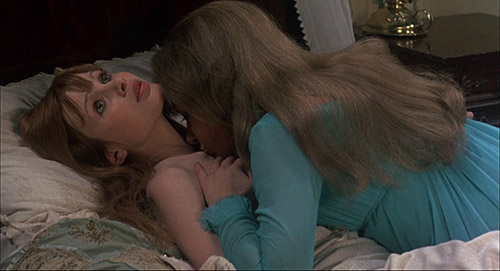 Sheridan Le Fanu's classic Carmilla has been adapted for the screen on numerous occasions, but few have demonstrated lasting appeal like Hammer's version. The first of the studio's Karnstein series, in which a family of vampires disguise themselves so as to prey upon humans by the simple means of anagramming their names (a technique pioneered by another such family in 1943's Son Of Dracula), it captures something of the same energy as the novella in that they both pushed boundaries in their time and, despite being written by men, portrayed lesbian desire (if not actual sex) convincingly enough to become important to many women at a time when very little similarly themed material was available in the mainstream.
That lack of actual sex has been a key factor in the success of numerous vampire stories over the past century and a half, enabling them to explore all manner of sexual taboos whilst (just) avoiding censorship. It also neatly sidesteps the problem encountered by films like Blue Is The Warmest Colour, in which men's fanciful notions about what sex between women involves lead to inadvertent hilarity. The camp quality of Hammer – and a dash of knowing irony – mean that there is humour here, but all under director Roy Ward Baker's control. Meanwhile, the vampiric erotica is delivered by the actors with real conviction.

It all hinges, of course, on the talents of one of Hammer's greatest stars, Ingrid Pitt. In her early thirties at the time, she doesn't wholly convince as the teenager whom Dawn Addams' mysterious countess presents her as, but if he has any suspicions, Peter Cushing's kindly general is too well mannered to say so, and when the countess is called away by a sudden tragedy, he agrees to shelter the girl under his own roof. There she soon forms a bond with his daughter Laura (Pippa Steel), but when Laura begins to have nightmares and claim that a monster is climbing into her bed, viewers will quickly realise that this isn't the innocent friendship that it might have appeared to be.
This isn't all there is to Carmilla's adventures, which will go on to include the more overt seduction of another young woman and, interestingly, a romance with an older one who initiates it herself. This latter relationship is perhaps the most interesting one in the film, acknowledging as it does a purely human form of same-sex desire and the existence of women with such feelings in all places and times, able to recognise one another and communicate in subtle ways even in environments where they are forced to hide. In doing so it speaks directly to a 1970s lesbian audience, offering a sort of affirmation alongside the titillation.
There is plenty of the latter, going beyond the heaving bosoms already associated with the brand and extending to soapy naked bodies with only delicately draped bits of fabric or carefully positioned cameras preserving the delicate sensibilities of the censors. As a result, the film received an X certificate on release (since replaced by a 15), cementing its reputation as a source of midnight thrills. Despite her striking figure, however, Pitt was an actor who could easily command the screen with her eyes, and it is her charisma that brings the role to life. In her final scene, when Carmilla reveals her true colours, she is easily a match for the iconic Hammer monsters portrayed by Cushing and Christopher Lee.
Though it's a bit stagey in places, the film, which also features a rather endearing turn from Minder star George Cole, hits on something meaningful in the way that it uses 18th Century social conventions to address to the discomfort and hypocrisy of a subsequent age. Monster though she may be, Carmilla also possesses a heroic quality in her refusal to be cut down to size, and despite her eventual fate, she succeeds in changing the perspectives of everyone around her. The idea which she has unleashed into the world cannot be put back into its oblong mahogany box. The Vampire Lovers is a bold and sensual piece of filmmaking which is in some respects well ahead of its time, and it remains a pleasure to watch.
Reviewed on: 15 Nov 2023
Share this with others on...