Eye For Film >> Movies >> The Tourist (2010) Film Review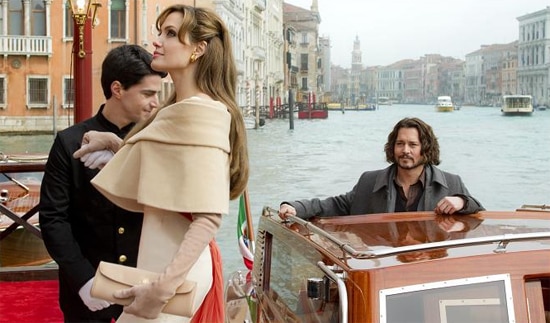 Johnny Depp! Angelina Jolie! Those are your selling points. He's quirky, kooky, the titular tourist, a seeming ingenue drawn into something that's not quite caper, not quite conspiracy. She's serene, elegant, playing dress-up in gorgeous locales. See them in Paris! See them in Venice! See them only if you've seen everything else you fancy at the cinema.
It's not bad. Indeed, it's got a certain charm, but not that much of it, without the easy confidence of Ocean's Thirteen. It's a sort of heist-flavoured romance, but it doesn't have the chemistry of either Thomas Crown Affair. It's got police and thieves, but it's not Heat. It's not that complicated, indeed, the twists are pretty obvious, but it is muddled.

It starts with trying to serve two stars - He's trying to be a caught-up non-entity, she's trying to be an aloof cipher. Jolie's comfortably in her range, and so is Depp and for all that they're acting well it does seem they're acting for themselves. It's not a lack of chemistry as much as it's a lack of engagement.
Then there's the script. There's a film that nobody saw, even in France, called Anthony Zimmer. It's got a mysterious stranger happening across a nobody, mistaken identity, wheels within wheels. Remakes of foreign language films carry their own problems, but adding writers is rarely a good start. There's Julian Fellowes, who crafted the excellent Gosford Park and the passable Young Victoria, and who here (one assumes) put lines in the mouths of fellow Britons Paul Bettany and Timothy Dalton. Christopher McQuarrie is also credited; no stranger to star power, he wrote the much better Usual Suspects and more recently co-wrote Valkyrie. Director Florian Henckel von Donnersmarck also contributed, and it's here that The Tourist starts to become disappointing.
Donnersmarck's first feature was the stupendous Lives Of Others. Four years subsequent, hopes for his first English language feature were high. The Tourist is as impressive visually, but in every other respect it falls short. In Lives of Others the plotting was tight, controlled, vital - and that which was happening was plotting, surveillance. The Tourist has its moments, but here its Interpol chasing a man who owes back taxes, not the suppression of democratic dissent by an oppressive regime. It's got its share of life and death, but it wanders so clumsily from peril to pratfall that it never quite convinces. It may be that Donnersmarck's first film worked so well because it was so obsessively focused, but it's certain that The Tourist is so disappointing because it's pulled in so many directions.
The cast all do their best, but few are stretched. Depp and Jolie have both been better than this, but the script isn't solid enough for either of them to do much lifting. Bettany's driven, even maniacal, as a policeman intent on his man and distracted by Depp's stumbling. As his far more urbane superior Dalton's quite a lot of fun, closer to his turn in Hot Fuzz, more worldly than he ever managed as 007. Steven Berkoff chews some scenery as the villainous Reginald Shaw, despite his Russian bodyguards very much cut from stock villain cloth. He's jealous, possessive, murderous, even performing the 'I pay people to kill for me' and 'price of failure' manouvers. He also looks pretty good in a suit.
Indeed, most of the cast are well-dressed, most of the time. Depp sports a tuxedo well, but Jolie is favoured even better by the couture on display. The Venice locations are beautiful wood and marble everywhere. Less certain is the tone - there are moments of distress, high tension, but there's never much doubt that there will be a happy ending, an awkward coda too. The lighter moments are tinged with Depp's turn as Jack Sparrow, his monkey-ish hot-foot rooftop pursuit only a bandana away from the Caribbean.
Despite its flaws The Tourist is entertaining. As on many holidays, the dull business of moving from one place to another is outweighed by the sights. Indeed, it's perfectly serviceable, but it might play better on an aeroplane than anywhere else. It's a diversion, a jaunt, and enjoyable, but given the quantity of talent involved it's a shame that it's more pedalo than gondola.
Reviewed on: 17 Dec 2010
Share this with others on...