Eye For Film >> Movies >> The Terminal (2004) Film Review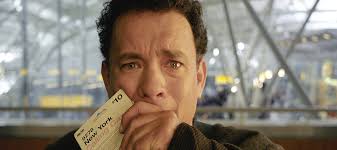 My life is waiting, usually for the next Spielberg picture, since I know that he is most likely to deliver an enjoyable film with tear-jerking drama, charming romance, loveable characters and flourishes of delightful humour. The Terminal has all of these qualities and flies high from beginning to end. Here's why:
The story is loosely based on the real life ordeal of Mehran Karimi Nasseri who, like Viktor Navorski (Tom Hanks), was left stranded in an airport with no means of getting out. Viktor arrives at New York's JFK just as civil war breaks out in his homeland. With no money, he has to find a way to feed, bathe and entertain himself, all in the confines of the terminal.

Another thing Viktor has to do is learn English. He does this with the hope of being able to read the CNN headlines, in order to understand the developments occurring at home. Throughout the film, his English improves gradually, which brings credit to both Hanks and Spielberg as they make a difficult to craft transition flow with the greatest of ease.
The supporting cast on hand to complement Hanks' believable and touching performance are a joy to watch, the range of characters delivering a range of subplots which take off with interesting tension and touch down with a feeling of fulfilment. Stanley Tucci is on top form, skilfully removing the audience from him (as to be a successful bad guy), whilst making us laugh at the same time. Catherine Zeta-Jones is not given a great deal to do, but since she swoops in and out of the plot, her ability to draw the audience in is impressive.
Spielberg's direction is delicate, but very relaxed. This is Viktor's story and he is in no rush to tell it, which will bother some viewers. The slow pace does not hinder the film, however, as this allows room for character development rarely seen in other movies.
This "serious comedy" is a joy to behold, not least because Spielberg does not have to turn in an edit, based on the demands of his producers. If he had, The Terminal would have been half an hour shorter and much less involving.
It is a character piece, taking us through the little problems, such as finding a meal that doesn't consist of crackers, that occur within a much bigger one (war?) and the things we choose to cling to in order to makelife bearable. Viktor's patience is admirable and shines out in a terminal, filled with fast food outlets and people rushing through their lives.
The film stops you in your tracks and tells you to wait, and, for once, the wait is thoroughly enjoyable.
Reviewed on: 10 Sep 2004
Share this with others on...