Eye For Film >> Movies >> The Talented Mr Ripley (1999) Film Review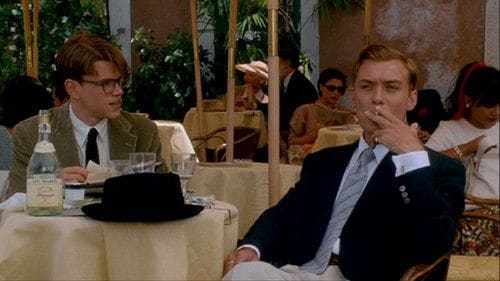 Too long, too slow, too incredulous. And yet writer/director Anthony Minghella has an elegance in his filmmaking that is irresistible. Only diehard aficionados of Michael Ondaatje can contain passion for The English Patient and no one with blood coursing through their veins could fail to be moved by Truly Madly Deeply.
He has made changes to Patricia Highsmith's novel. Not out of disrespect. Out of admiration. "I imagined her sitting with me as I wrote my screenplay," he says. Loyalty to the spirit of her work pays off. The adventure is the journey.

The film is seen through the eyes of Tom Ripley, a young man with a peculiar talent. He starts from nowhere, a busboy in a swanky hotel, who assists in the washroom, brushing coats, providing towels. He has a love of jazz and can play the piano reasonably well. Best of all, he is an imitator. He can mimic anyone, the voice, the body language, after only a cursory introduction. What is more, he does not want to be himself ("Better to be a fake somebody, than a real nobody"). He has aspirations, vague and undecided, always ready for an opportunity to arise.
It does so when millionaire shipbuilder, Herbert Greenleaf (James Rebhorn), impressed by Ripley's personality, when standing in as the piano player at a family wedding, hires him to go to Europe "and bring my son back." He is given money, lots of it, for expenses. The son in question is Dickie, who suffers the delusion of rich young men, that girls are like caviar - expensive and exclusive - and that charm savours all palates and working for a living is too bourgeois to contemplate.
Ripley ingratiates himself into Dickie's circle, finding the champagne lifestyle heady after his dull New York existence and enjoys the company of Marge Sherwood (Gwyneth Paltrow), Dickie's "fiancee". It is obvious that Greenleaf Snr's instructions have been superseded by Ripley's own agenda. He is intrigued by the excitement of creating a persona in a foreign country where truth has a separate intonation. Quite soon, he will test his skills. As an exercise in daring, this takes nerve. Ripley, for all that is known of him, is an enigma. Ambition, motive and emotion have become slaves to expediency.
The film looks wonderful. Set across the Mediterranean in the late Fifties, concentrating in Rome, it has an old world moneyed opulence that carries a history of good taste and bad memories. The character of Ripley fascinates. He appears to invent himself as he goes along. Rather than respond to fear like a victim of circumstance, he grasps every moment. What happens is not planned. It evolves through panic.
Matt Damon's performance is deliciously low-key. He epitomises blandness in search of style, the nowhere man with somewhere in his eye. As an actor, he is intelligent and not afraid to appear uncool. Ripley has potential. In this film, he begins to find it.
Jude Law adores Dickie. His is a more shallow, exuberant role, stuffed with sensual playfulness. He has the ability to ignore stereotype and get down to the business of reflecting Ivy League arrogance. He steals the screen, which is Dickie all over, and leaves a message for starmakers in Hollywood.
The story leans toward the languid. Minghella's pace is unthreatening, all the better to appreciate the beauty of the picture. As a thriller, expect surprise. As a romance, suck toffee. As a script, applaud.
Reviewed on: 19 Jan 2001
Share this with others on...