Eye For Film >> Movies >> The Talented Mr Ripley (1999) Film Review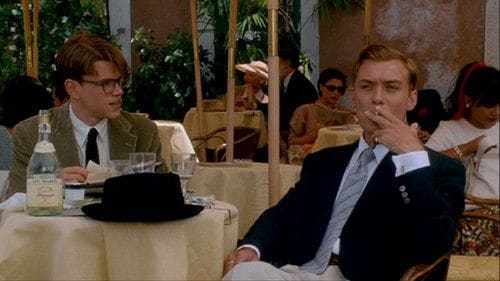 I saw The Talented Mr. Ripley on Saturday with a couple of Kiwis (Caro and Nugs). They called the film "The Talented Muster Rupley" because Kiwis do that.
Based on a Patricia Highsmith story, there are some Strangers On A Train parallels. The main parallel being that Strangers on a Train is a really, really good film and The Talented Mr Ripley is a film.

There is quite an interesting theme struggling to get out, that the more a person runs from their "dark side" the more it will reach out and reclaim them. Ripley's problem begins with being gay in the late 1950s and just builds from there...
Unfortunately, this is buried beneath travelogue shots of Italy and hours and hours and hours (well, maybe not, but it felt like it) of pointless dialogue.
The screenwriter apparently felt the need to spell everything out (either that or his typewriter was suffering from a runny bottom.) The Kiwis decided that this film was "shut". I have to agree. The sort of film that makes you grateful for adjectives like "interminable".
Reviewed on: 19 Jan 2001
Share this with others on...