Eye For Film >> Movies >> The Taking Of Pelham 1 2 3 (2009) Film Review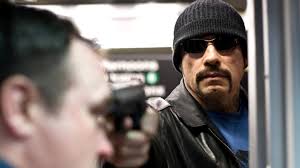 This remake of Joseph Sargent's 1974 thriller sees a Mr Average forced to go head to head with a psychotic criminal.
Denzel Washington is a mild-mannered subway controller whose world is turned on its head when cold-blooded John Travolta hijacks a train and holds the passengers hostage.
He demands a $10 million ransom within an hour or he'll start picking off passengers one-by-one — a murder for every minute they are late with his loot.
Travolta's Ryder refuses to deal with the cops or the hostage negotiator and will only speak to Washington's terrified family man Walter Garber. But the pair soon strike up an unlikely rapport and admiration for one another and the sharp exchanges between them are the best parts of the movie.
The original Pelham was a tense affair but this modern version cranks up the edge-of-your-seat factor even further.
Despite being set largely in a subway control room and train underground, Man On Fire director Tony Scott manages to add a string of high-octane explosions. These come courtesy of the cops' deperate race against the clock through New York's traffic-clogged streets to get their madman his money. A lot of gunfire will also please action fans.
Scott keeps things moving so quickly you risk whiplash and his trademark rapid camerawork is spectacular, while the plot has more twists and turns than a rollercoaster.
Travolta commands the screen, effortlessly combining crazy, funny and dangerous with the skill he did in Face Off. He also sports an exceptional handlebar moustache that deserves a gong for best supporting actor.
Washington is as reliable as ever as the everyman caught up in chaos, desperate to get back to his family but also to redeem himself for some past sins. Luis Guzman, one of the best character actors in Hollywood, also appears, mostly delivering light relief as a bumbling aide to Travolta.
Overall, Pelham is a great crime thriller and will be a big hit with fans of the genre or its lead actors.
Reviewed on: 20 Jun 2009
Share this with others on...