Eye For Film >> Movies >> The Senior Class (2016) Film Review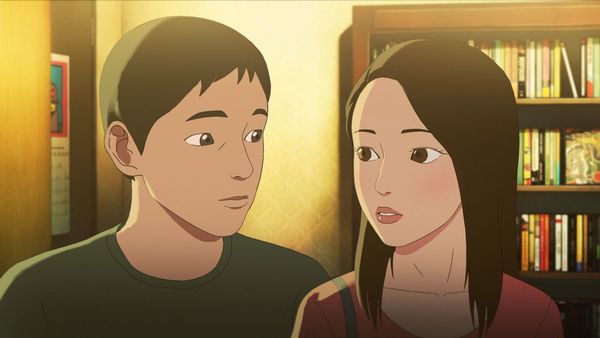 A study of the tensions between youth and adulthood, fiction and reality and men and women, Hong Deok-pyo's The Senior Class follows a group of art students approaching their end of year show, and graduation. Dong-hwa (Jung Young-ki) is experimenting with modern art. Ju-hee (Kang Jin-ah) is doing a project on mazes. Jeong-woo (Lee Joo-seung) is painting a portrait of himself. With its fashionably wide, round eyes, the latter immediately lets us see something of the self-deception at Jeong-woo's core, and it also suggests an innocence that could be every bit as dangerous.
Such round-eyed youths are the heroes of many a sweet Korean high school romance. Too shy to speak to Ju-hee, with whom he is enamoured, Jeong-woo creates a web cartoon inspired by his feelings for her, depicting her as a beautiful Angel and himself as a mer-boy who watches her in awe. On the one hand it invites the viewer to root for romance to develop. On the other, it's ever so slightly creepy. But Jeong-woo is polite and respectful, and distinctly uncomfortable around Dong-hwa's sexual boasting. At least by contrast, he seems like a nice guy.

Dong-hwa is involved with an exotic dancer from a local club, whom he generally treats with contempt. One day, when he needs to get a message to her but is afraid of confrontation, he sends also Jeong-woo as his errand boy. That's when Jeong-woo discovers Ju-hee's secret, and her world begins to collapse.
Keenly observant and merciless in exposing its characters' flaws, this uncompromising film is written by the director of Seoul Station and has similarly bleak points to make. It's expressively animated in a style that makes easy reference to the romances Jeong-woo believes he's a part of, yet can effectively convey the greater complexity of reality. Ju-hee has been working hard to save up money so she can study in France and pursue a career in fine art. Everybody in the class agrees she's the most talented. But that seems to count for little in the face of social stigma, and, young as she is, she lacks the tools to defend herself.
Sleeping with his dancer girlfriend, Dong-hwa is frustrated by her lack of experience. The line between too little experience and too much is slight; most of the women in the film get by by deflecting attention from the subject. Yet when Dong-hwa's girlfriend accuses him of rape, no-one bats an eyelid. There are double standards everywhere. The worst he is afraid of is embarrassment.
In this climate, Jeong-woo seems completely unaware of the passive-aggressive nature of his own behaviour. Ju-hee makes careful efforts to manage their developing friendship. He persists with the comic book narrative, increasingly assuming that her dreams must align with his. When things slip out of alignment, there's always something or somebody else to blame it on.
There's a dearth of films that really get to the core of this less explicit sense of entitlement, or explore the damage it does. The Senior Class takes its time to build but has some devastating points to make, and doesn't pull any punches. It's a bitter antidote to traditional teen films (and easily dark enough to justify its presence at Fantasia), though one suspects that viewers in Jeong-woo's position may miss the subtext completely. Ju-hee flouts not only his expectations but also those repeatedly instilled in cinema audiences, yet is believable throughout. Jeong-woo provides the meta-narrative and is in almost every scene, but this is not his story.
Reviewed on: 15 Jul 2017
Share this with others on...