Eye For Film >> Movies >> The Road Dance (2021) Film Review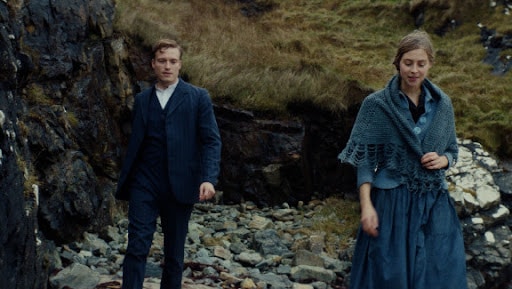 This feature debut from American director Richie Adams is firmly in the tradition of the likes of Catherine Cookson and Barbara Taylor-Bradford, although the novel source material here was written by a man, John Mackay, which unfortunately shows in its inability to truly get under the skin of its heroine. It has the well-made but familiar feel of a Sunday evening drama on ITV or the Beeb - a slot that it could well find itself occupying at some time in the future, especially after taking home the Audience Award after its EIFF world premiere.
Set in the run up to the First World War on the Hebridean Isle of Lewis, the story takes place in the tiny coastal village of Garenin. It is here that Kirsty Macleod (Hermione Corfield) lives on a croft with her mother (Morvern Christie) and sister Annie (Ali Fumiko Whitney) since the death of her father when she was a child. It's the sort of place where everybody knows your business, especially local busybody Old Peggy (Alison Peebles). No community of this sort would be complete without a local oddball, in this case the reclusive Skipper - and, yes, by now you'll have noticed even the character names over-familiar - (played by Jeff Stewart), a police constable (Ian Pirie) and a doctor (Mark Gatiss).

Love is blossoming between Kirsty and island laddie Murdo (Will Fletcher), recently returned from his Army training, much to the upset of fellow suitor Iain (Tom Byrne) but as the community prepares to wave its boys off to war, something fateful happens at the dance of the question.
I'm trying hard not to spoil a film which has plot beats that are so obvious and familiar it might as well be blasting them out on bagpipes; props to Richie, incidentally, for not including the skirl of those too much in the course of the film, at least steering clear of giving Lewis the full chocolate box treatment. But, as Kirsty discovers, stunning scenery can't save you. There's nothing here that even the most casual cinemagoer won't have seen several times before, which in itself might have worked with a bit more psychological underpinning but despite a pleasantly engaging performance from Corfield, she is given very little to work with. Her character is variously described as strong-headed and independent but she lacks any true sense of agency after events begin to unfold while the central puzzle has too few pieces to be satisfying. Things happen to Kristy but we don't get a sense of what's really going on in her head.
The acting, in general, deserves better from the script. Richie seems to be a romantic at heart, which is perhaps why the scenes between Murdo and Kirsty muster the most heat but it's a shame he shies away from the potentially interesting, melancholic elements of a village that is losing a generation to war. There's enough here to keep melodrama fans happy - and the Audience Award is testimony to that - but the more interesting emotions just feel too remote.
Reviewed on: 31 Aug 2021
Share this with others on...