Eye For Film >> Movies >> The Little Shop Of Horrors (1960) Film Review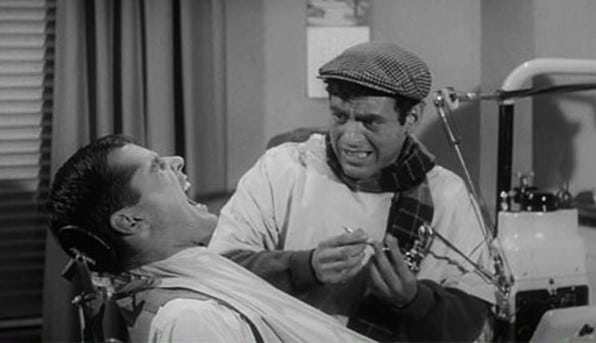 Since overshadowed by the 1986 musical remake, this modest little black and white B-movie is notable for its wickedly playful script and for a charismatic early performance by Jack Nicholson as crazed dentist Wilbur Force. It's the story of a quiet young florist's assistant, Seymour, who suddenly finds himself facing fame and fortune after discovering an unusual looking plant.
The girl whom he's always adored starts to notice him, the business starts to do well, and even his crotchety boss seems to be pleased with him. The trouble is, Seymour has a secret. His discovery will only thrive when he feeds it human blood. A few drops from his own fingers don't seem like such a big deal, but as the plant grows, its appetite grows too. Soon it's filling half the shop and Seymour is in serious trouble.
Though it lacks the gloss and sophistication of its successor - in places, the sets actually shake, and the quality of surviving prints is universally dreadful - this is still a stylish piece of work. Denied colour, Roger Corman plays with light and shadow like a master of film noir. This adds a creepy edge to scenes where Seymour is skulking round the backstreets of the city, an atmosphere which emphasises the agony of his moral dilemma.
It's a darker film in every sense, but this is alleviated by some brilliant comic performances from various minor stars of the time, patched together in a quirky style which is positively surreal. As Seymour works, assorted peculiar characters go in and out of the shop. There's a lady from the Society of Silent Flower Observers of Southern California and a man who eats carnations. Their absurd behaviours are played absolutely straight, creating a sense of madness, a sense that anything could happen.
Also notable here are Seymour's attempts to introduce Audrey, his beloved, to his incoherent alcoholic mother. This gives his character a depth and complexity which makes it easier for us to understand his vulnerability to temptation. As the mother, Myrtle Vail hams it up delightfully. These scenes seem patched together in a style reminiscent of reality TV, as if we are setting aside the business of fantastic plants for a while and facing up to (a bizarre parody of) real life.
Though it may seem to be made of very different stuff, this film can be heartily recommended to fans of the remake, and is well worth watching in its own right.
Reviewed on: 05 Apr 2008
Share this with others on...