Eye For Film >> Movies >> The Illusionist (2006) Film Review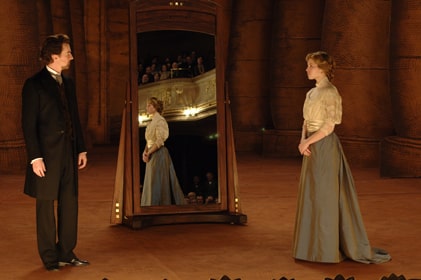 In tales of yore, the goat herder's son falls in love with the princess and, despite opposition from every quarter, they find a way to be together and (eventually) live happily ever after.
This kind of thing is not possible anymore, because even children are cynical. In the real world, politics, power, class and the corruption of hope prevails. Hypocrisy rules and love has a value, a financial value, like everything else. Only fools and the privileged few can afford the luxury of romanticism.

The Illusionist begs to differ. Writer/director Neil Burger's skill in constructing his story, with the help of Inspector Uhl's (Paul Giamatti) narrative voiceover and wonderfully disciplined performances, with the erratic exception of Rufus Sewell, as Crown Prince Leopold, whose depiction of arrogance has psychotic tendencies, captures a mood of magic.
The early years have a fairy tale quality. Edward (Aaron Johnson) is an Austrian cabinet maker's son at the turn of the 19th/20th centuries, who, as a lad, becomes intrigued by the art of subterfuge and illusion, teaching himself tricks that professional conjurers would have been proud to call their own. One day, the young Countess Sophie (Eleanor Tomlinson) is riding through his village when she sees Edward walking down the street, balancing an egg on a stick. She leaves her party and follows him. They talk and talk, until her official minders find her. "You can't be in a place like this," they scold. "These are peasants."
Their friendship continues in secret, until finally discovered, crouched in each other's arms, in a woodcutter's hut in the forest. She is virtually held under house arrest, while he runs away to his uncle's in Prague.
Many years later, Edward reemerges in Vienna as Eisenheim (Edward Norton), The Illusionist, and becomes an immediate sensation. It is during one of his shows, honoured by the presence of the Crown Prince and his friends, that he meets Sophie (Jessica Biel) again, resurrecting their love for each other. Of course, things have changed and she is unofficially betrothed to Leopold, who has the reputation of violence against his women ("He pushed one of them off a balcony to hide the beating he gave her") and is a man who understands the meaning of power and is only too adept in using it absolutely.
If the story has a tragic inevitability, the strength of the film is its ability to suspend disbelief and engage the audience with its mastery of mystery, aided not a little by Norton's eerie control of Eisenheim's very special gifts.
After outstanding work in American Splendor, Sideways and Lady In The Water, Giamatti continues to astonish. Uhl is a crucial character, on the one hand a servant of the royal household, acutely aware of his position, and on the other a detective who, within the constricts of Leopold's whim, tries to uncover the truth. Disguised beneath a thick beard and moustache, Giamatti's eyes and body language expose Uhl's character to perfection. Here is weakness grown strong in diversity.
Reviewed on: 20 Feb 2007
Share this with others on...