Eye For Film >> Movies >> The Great Passage (2013) Film Review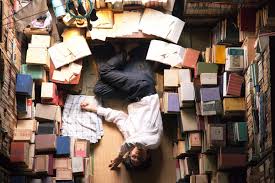 Adapting a highly respected novel for the screen is always a challenge. Subtitling a film about the Japanese language into English so that its nuances remain intact is more difficult still. Though it's not entirely successful, this is a film that deserves praise for its accomplishments given the scale of the challenges it faced. It is, however, a film that really requires viewers to be familiar with the Japanese language and with Japanese culture if they are to appreciate it fully.
Ryûhei Matsuda plays Majime, a shy, socially awkward man drafted in to help compile what is to be Japan's first 'living dictionary' - its first formal acknowledgement of contemporary language change and neologisms. In this it is, at the time of its conception in 1995, ahead of its time. In another way, however, it is behind the times, because it is to be printed on paper at a point when people are already opting for electronic formats. It requires an investment of trust in an industry known for its volatility, especially as it could take many years to complete.

Majime's passion for language and natural diligence make him perfect for the job, yet he worries that he will fail to complete it perfectly. It is a particular virtue in Japan to devote oneself to an activity for many years and thereby master it. As Majime gains more confidence in his work, he also becomes braver in other aspects of his life, and sets out to win the heart of the young woman who lives in his boarding house - a woman who is on a similar path herself, working as a chef.
A quiet, patient film that takes place almost entirely within just three locations - the boarding house and the young people's places of work - this is a story that seeks the everlasting within the ephemeral. As the years pass, we are aware of the changes taking place in wider society, of the communications revolution changing people's lives, of fast food outlets encroaching on sushi bars, and yet the film's central characters remain anchored to tradition, personifying an unchanging cultural core.
The superb set dressing and attention to detail in this film reflect those values. Matsuda is excellent in the demanding central role, carrying us through the end of the Nineties and into the 21st century, his character maturing convincingly let always remaining real. Majime's passion for his work is perhaps not as infectious as the film needs it to be, and the lengthy scenes focused on lexographical work may fail to engage many viewers. For those willing to invest, however, there are treasures in store.
Reviewed on: 02 Feb 2014
Share this with others on...