Eye For Film >> Movies >> The Good Lie (2014) Film Review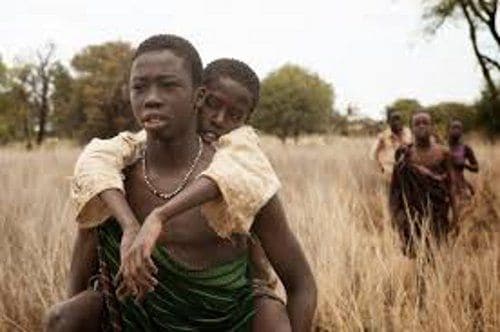 At a time when refugees from North Africa are dying in boat loads, attempting to reach Europe, a film that feels as real as the sand under their feet follows the journey of orphaned children from the civil war in Sudan to Kenya and later - much later - to America.
There are two films under a single title (borrowed from Mark Twain - the good lie is the one that saves a life) when one might have sufficed. First there is the long trek from massacre and fire, over deserts and across rivers, choked with floating bodies. Many died in the bush, others drank urine to survive, children without shoes flicking scorpions from their path, stealing food from wild animals, finding courage, like the air they breathe, one day, one mile at a time.

The second is not as life threatening, more a culture shock. After 13 years in a refugee camp four of the children, now grown up, are flown to the US and provided with foster homes, the three men in Kansas City and one of their sisters in Boston.
The break up of the group is a constant cause of contention. Why has she been taken from them? The bureaucratic reasoning makes no sense, as does much about the American way of life. Two settle into jobs and the third discovers marijuana.
Reese Witherspoon gives a generous, unselfish performance as Carrie Davis, an employment agency counsellor, who is put in charge of them. She appears cynical, weathered by years of disappointment and bad relationships. It's not that she can't be bothered any more, simply the end of something she once believed in, and yet her involvement with the challenges of these third world migrants changes all that.
Adding to the film's authenticity is the knowledge that the leading actors are Sudanese refugees themselves, two of whom were boy soldiers.
Reviewed on: 23 Apr 2015
Share this with others on...