Eye For Film >> Movies >> The Garden Of Allah (1936) Film Review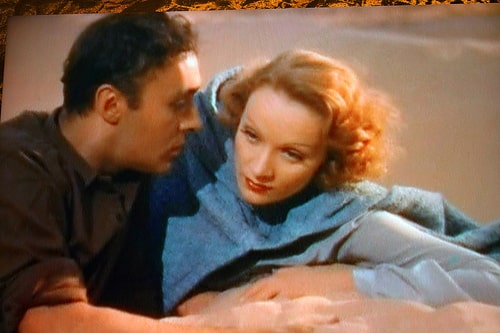 Marlene Dietrich's first Technicolor film is, in the simplest terms, beautiful.
The Garden Of Allah follows Domini (Dietrich), who is lonesome after the death of her beloved father. In order to bring some change into her life, she heads off to the desert. At the same time, Boris (Charles Boyer), a Trappist monk, has decided to break his vows of silence and escape to the same destination. It is at the oasis that they meet, fall in love and get married.

Boyer plays the tortured soul with distinction. His dark European looks bode well with his character, as he struggles to throw off religion and keep the secret of his past from his new bride.
As for Dietrich, she is absolutely stunning and has every bit of class as her peers, Greta Garbo, Carol Lombard and Mary Pickford. Although she looks good on screen, there are times when her over-acting can spoil a scene. When her character, Domini, discovers the truth about her husband, she looks more in need of the toilet than a cure for heartbreak.
The colourful brilliance of The Garden Of Allah is produced by the legendary David (Gone With the Wind) Selznick. He and director Boleslawski have created a visually stunning world, where the sun glows beautifully across the African sand and the faces of the actors are as clear and flawless as they would be today. The film may have been digitally re-mastered for modern times, but it is still difficult to believe that this film was made in 1936, three years before the technical dexterity of The Wizard of Oz and four years before Disney's Fantasia.
The only thing that brings a shadow over the Garden of Allah is its length. At a mere 76 minutes, the film moves swiftly along. There is little time for character development and occasions when the plot is confusing, as the protagonists' relationship moves too fast.
Overall, it is definitely worth a watch, if not for the actors, then for the amazing camera and lighting work. And, of course, to listen to the Arabs, who talk gibberish in the background.
Reviewed on: 13 Sep 2001
Share this with others on...