Eye For Film >> Movies >> The Elephant Man (1980) Film Review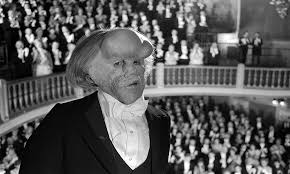 After an auspicious, if low key, debut in the late Seventies with Eraserhead that has since become a cult classic, which means no one understands it and everyone speaks highly of "the powerful graphic imagery," David Lynch made a black-and-white pastiche of a Victorian biopic four years later which was considered by avant-garde purists as a sell out to mainstream cinema.
In retrospect, returning to the film in 2008, aware of Lynch's mercurial talent, with great works (Blue Velvet, The Straight Story) and incomprehensible indulgencies (Lost Highway, Inland Empire), it is possible to revaluate the qualities of The Elephant Man, the story of a grotesquely disfigured cripple who was rescued from a travelling freak show by Dr Frederick Treves (Anthony Hopkins) at The London Hospital, from where he became a social sensation, patronised by royalty and the leading thespian of her time (Anne Bancroft). His name was John Merrick (John Hurt), who, despite a lifetime of abuse and degradation, emerged under the protection and guidance of Treves as a man of delicate sensibilities and vibrant intelligence.

The performances are electrifying, especially by Hurt whose ability to convey emotion beneath make up that resembles giant tree mushrooms and a mouth like a shark attack is astonishing. He won Best Actor at the BAFTAs in 1980, but missed out at the Oscars to Robert De Niro's Jake La Motta in Raging Bull. Hopkins is in his Richard Burton phase, intense, smouldering and highly effective, while Freddie Jones, as Merrick's brutal "owner", is manipulative and cunning.
First impressions that this is a conventional costume drama are misplaced. The photography (Freddie Francis) captures the louring architecture of East London with the same passion for detail as the freaks themselves. Lynch uses fades rather than jump cuts in the style of early silent films and his sense of period is like his understanding of deformity, sympathetic and astute.
Merrick's history, with its tragedies and triumphs, breaks the barrier between a life less ordinary and a horror comic. Sentimentality is soured in the brutality of working class mores, while the interest conveyed by the kindness of strangers is tinged with privilege.
Ugliness, Lynch implies, is a cheap thrill. Look beyond, look beneath, to the soul of the man. That is where the heart breaks. "I am a human being," cries Merrick, trapped by a baying crowd in the fetid filth of a public convenience. Love is as fragile as a photograph. Lynch never lets go, as Merrick never forgets the image of his beautiful mother.
Reviewed on: 10 Aug 2008
Share this with others on...