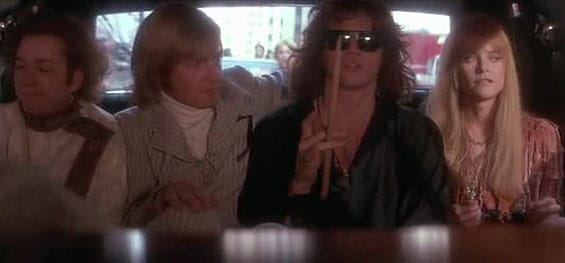 Jim Morrison is not the man to write the epitaph to the Sixties and Oliver Stone is not the man to crush the flowers of the rainbow generation. One floats on the ecstasy of self-delusion, while the other dives into excess and glory. Together, they create two-and-a-half hours of mind molten memorabilia that confirms every rumour of rock'n'roll's ruin and wipes the summer of love from the consciousness of those who survived it.
Morrison has become an icon. His death, aged 27, in a Parisian bathroom - bloated, alcoholic, reclusive - wrapped a mantle of mystery around his shoulders. "I am the lizard king. I can do anything." Even die right.

Those who knew him had little respect. He was stoned, drunk and abusive most of the time. He hated the music business almost as much as performance and could not even appreciate the irony of adoration from kids he insulted on stage. This sex shaman, who lusted after danger like a death junkie, was his own invention. The real Jimmy, the boy who witnessed an Indian dying by the roadside in Arizona, lost himself in the myth of another incarnation.
He had the reputation of being smart, a potential filmmaker and wordsmith. Val Kilmer portrays him in the early days, before he meets fellow UCLA graduate Ray Manzarek (Kyle MacLachlan) on the beach at Venice, Cal, as a pretentious, self-centred drifter whose talent for meaningless phrases with poetic rhythms pulled the chicks and gave him pseudo literary status among impressionable West Coast potheads.
Manzarek recognises his potential as a lyricist - a vapid line with the flavour of import does wonders to a strong organ backing - and suggests he join his new band as vocalist. "I can't sing," Morrison says, still young enough to be modest. "You must sing better than Dylan," Manzarek says, mimicking the Minnesotan folkie's talking technique.
Morrison uses the music to elevate his undigested verbal imagery into fabulous tantras for toke-toting sensualists and head trippers, wired enough to "ride the snake till the end of time". Better this than whispering: "Let me tell you about heartache and the loss of God," into the ear of some loose-limbed hippie under the stars on a leftover night in LA.
Once fame fashions his style, he's hooked. But the intensity and madness is unearthly. He can't stand away, can't escape and, more than anything, can't laugh. "Where's the feast they promised us?" he asks, expecting a revelation of wonder, rather than drug abuse and decadence.
Stone emphasises the loss of innocence to an extent beyond credibility. If Morrison was as intoxicated and spaced out as he appears on film, how did he make a record, perform a gig, write two words consecutively? Girls strip naked at every concert long before streakers became faddish. Skateboarders pump the pavements a decade before the craze.
Morrison may have been an enigma, but he was also a person. Stone appears to be using him as a stick to beat a generation, the one that sacrificed youth on the altar of Aquarius, exposed the dream by desecrating beauty. It doesn't ring true. The Sixties was an era of hope, the Seventies of disillusion and The Doors never attained superstardom, selling more CDs now than they ever sold albums then.
Perhaps rock heroes can never grow, although another poet/singer Leonard Cohen might disagree. Janis Joplin burnt herself out, like Morrison, but her driving force was to make people love her, while his was to decimate demons in his darkness and satisfy every temptation.
Ultimately, despite moments of genuine excitement - the rendition of The End at Sunset's Whisky-A-Go-Go - Morrison is not an inspiration. Kilmer lacks the unpredictability of the man, especially that spark of genius, if it existed, although, in every other respect, gives a creditable performance. Meg Ryan, as his regular girlfriend, is completely wasted, as women tend to be in Stone movies.
No one has a chance to suggest what they might have been, with the exception of MacLachlan, who hints at Manzarek's intelligence. The frenetic nature of the production is against them. To paraphrase another slogan of the time, all human life is missing.
Reviewed on: 15 Feb 2003
Share this with others on...