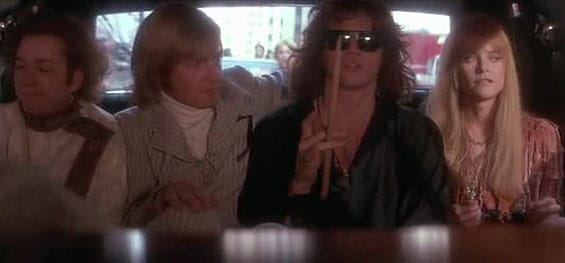 For a film as long as this, it needs to look good, and it does. Also, the sound is pristine.
The quality of main field extras is surprisingly poor, as if no one has taken trouble and simply cobbled together what was lying around. Behind The Scenes consists of genuine candid pictures of little consequence. The sound keeps packing up. Oliver Stone appears in his cowboy hat to say "Action" every now and again. A boring scene of Val Kilmer and Meg Ryan walking on a beach, accompanied by a camera, bright lights, a big mirror and the usual ghuff follows. It's always interesting to watch film actors at work, because there are so many people around and you don't know how they forget about them and focus on what is, so obviously, a fabrication.

The Interviews are an insult to the intelligence of movie buffs. Stone speaks for less than a minute, Kilmer even shorter. Ryan has three sentences and MacLachlan one-and-a-half. Frank Whaley is cut off in mid flow and Kevin Dillon blinks and is gone. Stone appears nervous, almost phony. Kilmer is articulate, talking about Morrison's chameleon talent, playing 100 different characters in 100 different songs. Ryan slips into her Harry Met persona and before the charm sticks, has disappeared. MacLachlan says, "Jim was a poet, not a rock star,"and Paul Rothchild, the music producer, played by Michael Wincott in the film, is given enough time to tell us, "Val is not into mind altering chemicals at all, while Jim explored all frontiers." You need to know that.
The Making Of featurette is a waste of time. It uses repeats from the mini-interviews and adds a scene of Dillon learning how to play drums.
Songs is songs, 20 of them. This means going back into the movie and cutting out the bits where they are sung. Actually, it's good. It gives a feeling for the music, the whole Doors experience, because it's concentrated and you remember how rich Morrison's imagery was
Reviewed on: 15 Feb 2003
Share this with others on...