Eye For Film >> Movies >> The Blue Room (2014) Film Review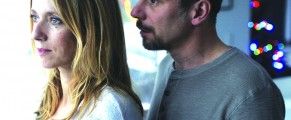 Vladimir Nabokov warned in Transparent Things - "When we concentrate on a material object, whatever its situation, the very act of attention may lead to our involuntarily sinking into the history of that object." To remain in the here and now to truly focus on the surfaces is difficult.
Mathieu Amalric as director/writer boldly takes on the challenge with his adaptation of Georges Simenon's novel The Blue Room (La Chambre Bleue) and makes it a thriller of membranes, a chronicle of fluid crime.
An airy empty room, blue and white. A rustic corridor in a rural hotel in France. Snapshots to take a quick look. It is summer. Objects tempt us to turn them into transparent things, as do the bodies who take over a bed.
A man, Julien Gahyde (Amalric), is bleeding at the lip. In rapture, his lover Esther (Stéphanie Cléau, who co-wrote the screenplay) bit him. "Your wife will ask questions," she says, and then "do you love me?" She is marking her territory in blood. Amalric uncompromisingly shows us the stains, the sweat, passionate embraces and a room as silent witness.
A bee lands on her belly. "I think so," is how he responds to her question. "Did she bite you often?" asks the Gendarme. Tip Top director Serge Bozon acts as the nameless uniformed interrogator and gives him a grave, scientific spirit of inquiry. What happened? Was there a crime?
The crime remains a mystery as the people unfurl. Textures tell a tale on their own. The lovers' game presented in the classic aspect ratio (1:33) lingers when Julien's scruffy beard meets the uneven pearls of the necklace adorning Esther's naked body.
The world outside the adulterous haven, exposed by cinematographer Christophe Beaucarne, is benign, ordinary, quite lovely to look at. Julien's wife Delphine (Léa Drucker) and their daughter Suzanne (Mona Jaffart) wear matching aprons with orange stripes in the kitchen of their light-filled modernist house in the countryside when we first see them.
Why is Julien being interrogated by a prison psychologist (Blutch)? Could it have something to do with what Esther said about being together always, with her husband and his wife out of the way? Was she hinting at a game of matching crimes as in Hitchcock's Strangers On A Train?
François Gédigier's inspired editing trusts that mismatched sounds and images form an emotional whole. Grégoire Hetzel's grand scale music gives the big emotions their proper place - where words cannot go.
In a particularly striking scene - you cannot call it flashback, because the film consists of time flashes without a discernible present - the lovers meet for the first time since their school years after his return to the small town. The encounter takes place on a road in the forest - the red light of her broken down car bathes them in devilish hues as the music swells for their very first passionate kiss. Amalric dares to go for big cinema moments while letting his audience have the freedom to do the work of plot-telling on their own.
Language can be on the level of a child's drawing as his investigators keep interrogating Julien about exact wording.
The story gets to the transparent surface of things during a family vacation by the sea. In a glorious shot that matches that of the lovers' first encounter in the forest, we see Julien and his wife sitting on a bench while they watch their child go round and round on an old-fashioned carousel. The music tells one story, the expression on the couple's faces another, our knowledge of past betrayal and suspicion of future crime tells a third that might mix with memories of the times when you yourself were that child on the carousel without a clue as to how complicated the adults have to make everything.
A red towel on the balcony above the chemists that became the lovers' signal, now marks our awareness. While exterior information is revealed, such as his successful work with agricultural machinery, Esther's pharmacist husband's illness, Delphine's love of jam for breakfast, the characters' motivations become opaque. Monstrous clouds in the shape of letters - "Now You" cut out of a magazine as in a ransom note.
The wife decorates for Christmas, standing on a tall ladder holding one end of a blood-red garland of tinsel while her husband pulls aggressively on the other. The domestic tug of war works brilliantly because the actors make sure that we are aware of how little anyone knows about what is going on inside their head. Because there are no angels around.
Symbolism adds layers to the storytelling - another blue room in a courthouse has golden bees marking the wallpaper which might be more on the nose to bring us full circle.
Amalric's Blue Room is a whodunnit with a question mark for each molded part - the who, the done, and especially the it.
Mathieu Amalric is scheduled to attend the New York Film Festival screenings.
Reviewed on: 05 Sep 2014
Share this with others on...