Eye For Film >> Movies >> The Beach House (2019) Film Review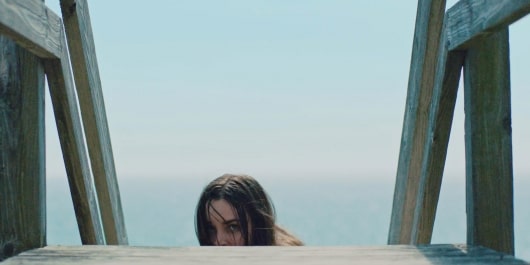 When the Covid-19 outbreak first went global, there was a feeling in the film industry that pandemic movies might be off-limits for a while, but in fact sales of existing films and literature on the subject have increased, perhaps as a result of people looking to fiction as a means of learning, finding solutions or at least working through their fears. Like most diseases featured in cinema, the one you'll find here is rather more gruesome and fast-acting than most real ones. Those suffering from it don't show much respect for social distancing, but the scale of events means that this is only a fraction of what our heroes have to worry about.
We begin in happier times - though perhaps not perfect ones. Young couple Emily (Liana Liberato) and Randall (Noah Le Gros) are enjoying a week away at the titular beach house, but all is not easy between them. He wants to talk about settling down. She wants to focus on her academic career. He says that doesn't matter, and the look on her face betokens a host of future problems no matter how they resolve their immediate disagreement.

Before they can worry too much about this, another problem presents itself: the arrival of Mitch (Jake Weber) and Jane (Maryann Nagel), a fiftysomething couple who introduce themselves as friends of Randall's father, who owns the house. Each pair had expected to have the place to themselves. It's a sizeable house and they agree to try and make the best of it, gradually breaking down intergenerational suspicion. Emily quickly becomes aware that there's something fragile about Jane, observing Mitch's gentle protectiveness. There's a quiet sadness about the older couple. A night of eating and drinking together and going out to gaze at luminous phytoplankton on the surface of the ocean has that special quality attendant to the knowledge that something is about to end.
The way it does end, as it turns out, is something none of them could have predicted.
Very much a film of two halves, Jeffrey A Brown's debut feature starts out with intelligent, nicely balanced character drama and then plunges into full on body horror, with lots of gooey, sticky material to suit its seaside theme. Strange things washing up on the shore are complemented by a radio broadcast that hints at a Fifties-style invasion theme, though sadly this is never more fully fleshed out. Instead, as the characters find it harder and harder to make sense of what's going on, the film itself begins to disintegrate and lose its narrative coherence. Crisp photography gives way to blurry visuals and low light. There is only so much that can be said here. A realistic approach - the characters are not privy to any special information - means that story essentially has to give way to horror.
All this is held together by an impressive performance from Liberato, who gives Emily substantially more depth than the average horror heroine and gives us more reason to care once things start to go badly. With good support from the older actors, she grounds a tale that might easily have drifted off into absurdity, and keeps the film watchable even when it starts to lose its way.
The Beach House is an odd little film and not altogether satisfying, but works very well in places and suggests that we might expect impressive things from both Liberato and Brown in the near future.
Reviewed on: 06 Jul 2020
Share this with others on...