Eye For Film >> Movies >> The Artist (2011) Film Review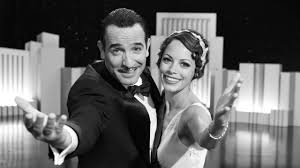 Michel Hazanavicius' The Artist is an exuberant love letter to Cinema. A silent film in black and white, set in the Twenties and early Thirties, it is an unlikely candidate to charm large crowds. It did at Cannes, and it will all over the world, because it has more style, wit, insight and heart than most films made this century.
Intertitles indicating dialogue, such as, "I won't talk. I won't say a word" and signs stating, "Please be silent behind the screen", function as humorous introductory lures into the Hollywood of 1927, right before the talkies entered the picture.

Hazanavicius plays with audience expectations and brilliantly veers off into the unexpected. If you lip read, you will see someone say: "I'm going to kill you for this", followed by the text "I'm going to get you for this" as a comment on early censorship.
At the movie premiere, a bit like the one that introduces Don Lockwood in Singing In The Rain (1952), we meet silent movie star George Valentin (played by Jean Dujardin with the charms of Douglas Fairbanks, Gene Kelly, and Vittorio Gassman combined). He is on top of the world when he first encounters and is photographed with Peppy Miller (Bérénice Bejo, bouncy like a young Joan Crawford straight out of Dancing Lady, 1933), a Hollywood extra, whose life will be forever altered, and who will also alter his.
George's wife Doris (classy and funny Penelope Ann Miller channeling Mary Astor) sees the photo on the cover of Variety at the breakfast table, one of many wonderful breakfast scenes in this film as well as in uncountable Hollywood films of the Twenties to the Fifties: From Orson Welles' Citizen Kane (1941) to Ernst Lubitsch's Heaven Can Wait (1943), from James Cagney's grapefruit to Myrna Loy and William Powell's Thin Man banter, they all may come to mind, but leave the mind quickly as well.
The Artist is not a persiflage, each quote is not an end in itself, instead it serves the story being told, by giving it history. Film memory is mood memory, and the reference makes you love both even more. Speaking of love. George has a co- star, a Jack Russell terrier with most remarkable talents, who is also his constant companion and life saver.
I asked Hazanavicius at the press conference, if he felt he didn't have enough challenges making a silent film in black and white and had to add a rambunctious dog to half of the scenes. He answered that he saw George and the dog (Uggie is his real name) as "one character with two bodies".
Of course, it wasn't all that easy to train Uggie to such perfection, and they did it with hidden sausages. "Unconsciously a character is running after sausages. He's just hungry." James Cromwell, the wonderful actor who plays Clifton, the star's faithful chauffeur, added from the other side of the panel "That's true for actors, too."
Many scenes are visually hilarious, such as when Peppy slips secretly into one sleeve of George's coat in his dressing room to hug herself or the silent movie star struggles with quicksand on the jungle set. On the other hand, the nightmares begin for George, who refuses to believe in Talking Pictures. "People want talking faces," the industry agrees and George's decline coincides with Peppy's rise to talking stardom.
Not once, does Hazanavicius stab his characters in the back. What is even more remarkable in 2011 than making a silent film, is making a film completely devoid of sarcasm. Shot in Hollywood, the buildings (Mary Pickford's home!), the staircases, the light, the 22 frames per second, all help to resurrect a glamorous world that only exists on film.
George's clock with three monkeys, witness to his rise and fall is sold at auction. In 1931, the former star's life has turned into Lost Weekend (1945), and a bit of M (1931), with pawn shops and a shivering dog.
This is far from the end. Bernard Herman's score from Vertigo (1958) and Franz Waxman's from Sunset Boulevard (1950) mingle with original music by Ludovic Bource. This graceful tribute to the memory of old Hollywood not only fills in gaps between films, it also raises questions about male pride and why it might be so difficult to accept being rescued by a woman.
I cannot remember the last time a film made me cry and laugh out loud half a minute later, especially not in public. The Artist did that, because all the winks and whistles, taps and barks and references to movies and stars serve a purpose. To tell an honest story with believable and lovable characters in an intelligent way. And it always helps to cast actors that have faces like Lubitsch or try to dance like Eleanor Powell.
Reviewed on: 15 Oct 2011
Share this with others on...