Eye For Film >> Movies >> Summertime (2015) Film Review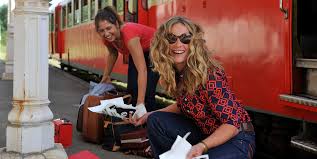 Lush meadows, a cuckoo call, a tractor - father, mother and daughter are working on their farm. The beautiful idyll could be anytime, but it isn't. Delphine (Izïa Higelin), is questioned by her father (Jean-Henri Compère) in a friendly and slightly concerned manner if it might not be time to get married, suggesting childhood friend, neighbor, occasional rabbit poacher Antoine (Kévin Azaïs), as a candidate. Delphine has no intention of getting married, and when a local girl breaks off their secret relationship, the film shows her in Paris, living in a tiny chambre de bonne heating up a can of ravioli on a Bunsen burner, eager to embrace a new future.
It is Paris in the spring of 1971 and by chance or fate, the newly transplanted farm girl finds herself on the same street where a group of women in protest slap the behinds of men strolling by. One of the men gets furious and Delphine valiantly frees Carole (Cécile de France), one of the activists, from his clutches. Carole invites Delphine to come to one of the protesters' regular meetings and so begins their journey that will eventually lead both women back to Delphine's parental place near Limoges where they really get to know not only each other but also the prejudices of the society around them.

Catherine Corsini's Summertime (La Belle Saison), co-written with Laurette Polmanss, captures a remarkable time and spirit, placing the love story in the centre without ever blurring the edges. The scenes of feminist activism are so full of energy, goodwill, and humour that one can hope they'll be infectious. During the first meeting in a lecture hall, attended by Delphine, who has a factory job at Félix Potin, the women argue how males attending their events would change the way they express themselves. "We are not against men, we are for women," Carole says and it is clear that they mean it.
Grégoire Hetzel's score adds texture and non-verbal commentary and Jeanne Lapoirie's cinematography is inviting without being overly painterly or faux romantic. Though the events unfold forward, the feel of Summertime is that of a pleasantly painful memory recalled backwards, clutching you emotionally as if you were looking at a faded photo album.
Corsini knows that she needs to be specific for the triggers to do the trick. Costume designer Jürgen Doering of Cédric Anger's Next Time I'll Aim For The Heart (La Prochaine Fois Je Viserai Le Coeur) and Olivier Assayas's Something In The Air (Après Mai) avoids the emblematic to give personal style a chance to stand out. Trifles hold the answer. The way Carole's necklace is wrapped around twice, once tight, once loose. The chunks of bread cut thick as a brick. The cows looking on as the women make love in the pasture.
Rarely has a film presented activism this lovingly and joyfully. It is tricky to show a room full of women singing at the top of their lungs of the "dark continent" and for "enslaved women" to "arise". Corsini pulls it off as she invites you to cheer with them. The political actions and beliefs - their group interrupts a repulsive expert's pro-life lecture by throwing raw meat at him and they rescue a gay friend from an asylum where he is being "treated" with electroshock therapy - also bond Carole and Delphine.
Which does not mean that change comes easily in their private relations. Carole is living with her boyfriend Manuel (Benjamin Bellecour) who is clearly jealous and not an unreasonable person at all. When Delphine's father has a stroke and ends up in the hospital, she decides to return to the farm. Carole follows her as a friend from Paris, who sleeps in what used to be grandma's room. Their love has to be kept secret from family, neighbors, the community. Delphine knows the rules and is not yet ready to break them.
Noémie Lvovsky as Delphine's mother Monique, a woman who is capable of almost single-handedly running an entire farm without ever taking credit for it, quietly steals the scenes she is in. Her body language, the house dresses she wears for work over pants tucked into wellies, and the deeply engrained positions of what cannot be, are as real as it gets. Mirroring shades of sky, Lvovsky's face fluctuates with meaning and invites us to guess what she is thinking.
During an instant full of hope and possibility, Monique and Carole dance to Joe Dassin's pop song, Fais-Moi De L'électricité, as though they were five years old, and we wonder why the daughter is so against telling her mother that her love for Carole is more than platonic. Monique's eyes give away the secret lair of the devil - the forager of fear.
Summertime shines through de France's luminous transformative magnetism and deep goodheartedness that made the Dardennes' The Kid With A Bike so powerful. Higelin manages to let Delphine be the port in a storm that is, in reality, raging also in her own head.
Reviewed on: 12 Jul 2016
Share this with others on...