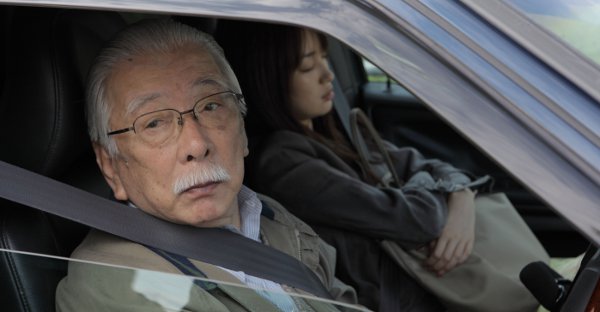 In the third of our reports from the 50th New York Film Festival, Like Someone In Love director Abbas Kiarostami offers glimpses of truth and speaks about his reluctant star, Something In The Air helmer Olivier Assayas salutes political youth and poetic lightness, while Passion director Brian De Palma explains how to make a film without even trying.
Like Someone In Love
A central figure in Kiarostami's character study is a retired professor (Tadashi Okuno), the client of a young woman Akiko (Rin Takanashi), who finances her sociology studies by selling her body. The director cracks open the universe of Yasujiro Ozu, which stays as a point of reference, though not in clumsy reverence, with low static shots or trains rolling by in the distance.
Anne-Katrin Titze: I like very much how Ozu is present as absence in your film - through the grandmother, the neighbour, the people talked about and unseen. But my question is about something else. There is a mother with her two children in Halloween costumes, who are almost run over by the car rolling out onto the street. A disaster almost occurred and the expression on the mother's face looks so real, that I cannot believe it was staged. Can you speak about the ratio of chance and direction for this film?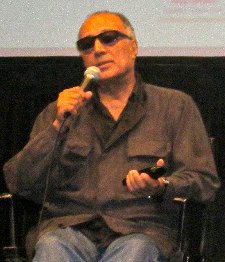 Kiarostami responded with the help of a Farsi translator, that it was "very true, there is an unquietness to the film… and there are glimpses of truth in the film. And now I'm going to answer your question." The director explained, that the set on the street, I was referring to, was only theirs for a very short time. The landlord gave them permission to film for the day, and they transformed it in the morning. So when the mother came back after picking up her children from school, she did not recognise the place. "The set was suddenly unfamiliar to her." And that is the expression we see on her face.
"How close I feel to you as a spectator," Kiarostami said to me, "this is what I want to watch - a moment of truth."
The first idea for Like Someone In Love came when he saw a young girl dressed as a bride and someone explained to him that she was a part-time escort. He gave 81-year-old Tadashi Okuno his first leading role in a film, but did not tell him so. "I told him he had a very small role." Kiarostami loved "the innocence of the man".
He added: "I meant to make a film 20 years earlier with him but I hadn't because at the time I still wasn't able to understand the state at his age and now we were both right for understanding each other. The reason I was making the film with him wasn't about the words or knowledge, it was a matter of feeling, and something non-verbal was happening between the two of us."
After Like Someone in Love had finished filming, he told Okuno, he would like to work with him again.
He said: "I went to him with my interpreter and told him that it was a wonderful experience, that I was really happy to work with him, that I really met a gentleman through him, but I still wasn't satisfied, that there was another film that I wished to go and shoot with him in Japan. And he thanked me very politely, but afterwards, he told my interpreter that he was very touched by my proposal but he didn't wish to act again as a main character. He wanted to become an extra again, go back in the background… I think this is the very definition of Oriental wisdom that, I think, Buddha said, a wise man doesn't go under the spotlight, what I'm doing right now."
Something In The Air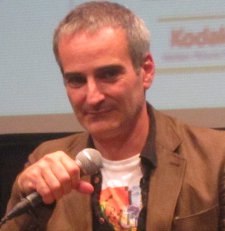 Olivier Assayas' film presents a snapshot of French youth in the early Seventies, as young Gilles finds himself torn between political idealism and pursuing a life as an artist, while experiencing the first flush of love. Most real, and at once divine, are the scenes set against the natural landscape. When Gilles (Clément Métayer) meets his girlfriend Laure (Carole Combes), she walks toward him on a forest path in a long white lacy dress and is every bit the muse.
I asked Assayas about the fascinating character of Laure: It feels as if all of us at one point, encounter a person like her. She is universal and unique at the same time. How did you find the actress to embody Laure - as muse and gasoline?
Assayas said, Laure, like a few other characters in the film, was based on a real person as a starting point. The most difficult part was finding "her poetic lightness. She is from that period and from any period… She is the light that leads him. It is her resurrection out of the time. Half of it is Carole's creation".
There is nothing nostalgic about this film, which ultimately is about youth.
Assayas said: "I am not nostalgic about my youth as a teenager in the 1970s (He was born in 1955). I was so happy when they were over. I was impatient to become a young adult… the Seventies was a difficult time to come of age, there was nothing to lean on. Everything had to be invented… Filmmaking has to do with youth. I see movies as a dialogue with the absolute present."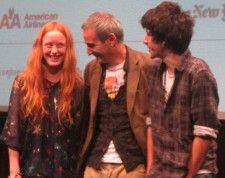 Music plays an important role in Something In The Air. The music and fashion of the time became the easiest point of entry for the young actors, agreed Métayer and India Menuez who co-stars as Leslie, the American girlfriend of Gilles' friend Alain. Assayas explains his choice of any particular song by trial and error. Often, "the film rejects it. In this case, the film absorbs it."
The movie with Nazis and dinosaurs, which we see the character Gilles working on, is inspired by The Land That Time Forgot (1975) and represents the movies the young Assayas had no interest in making.
Assayas added: "Film is the last popular art form. You make movies to ask questions. There was that crazy, utopian hope in the future and a deep dislike of the present. We wanted nothing to do with this world. It reminded you constantly that everything is transient, that you could deeply transform society. Today, we live in an eternal present - obsessed with the present. The values are deeply different."
Passion revisited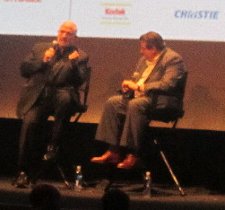 At the Saturday morning, 10am make-up public screening for the cancelled (DCP code locked projection) US premiere of Passion last weekend, Brian De Palma's disinterest in the creation of his own film came across loud and clear. The Q&A took place inside of a mostly empty Alice Tully Hall. The festival audience had a few questions for the director about his remake of Alain Corneau's 2010 French thriller Crime D'Amour (Love Crime).
About the choice of the ballet for his trademark split-screen sequence (Claude Debussy's Afternoon of a Faun):
De Palma: I liked it. I really wanted you to think she's at the ballet.
About his use of the colour red:
It had a lot to do with our German art director (Astrid Poeschke). We said, wow, we want more red in this picture.
About his unreliable narrator:
De Palma: I try to lead you astray and trick you as much as I possibly can.
The person most fooled, seemed to be Brian De Palma himself.
About the women:
De Palma: I like the relationship between them. They did their own mindf**k. I just liked them manipulating each other.
About the technology:
De Palma: You know, I am a science fair winner. They told me … no Inception technology … then, on the web, I discovered this commercial... This is where I got the idea (of the ass cam).
Take a recent, stale, mediocre French film set in London, move it to Berlin, add no new fresh ingredients of your own and you have Passion.
Share this with others on...