Eye For Film >> Movies >> Summer '03 (2018) Film Review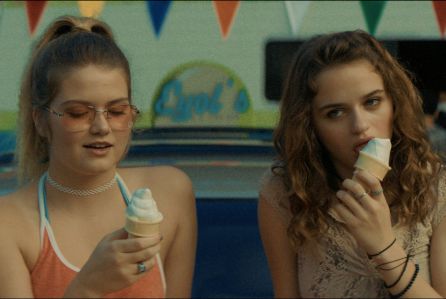 Relatives: don't you just hate them? Actually, Jamie (Joey King) gets on well with most of her family but nobody likes grandmother Dotty (June Squibb). If most deathbed confessions are about clearing the conscience, Dotty's seems to be about doing enough damage to ensure that she can't be forgotten in a hurry. She tells Jamie two things: that she secretly had her baptised to keep from being doomed to Hell by her Jewish mother; and that the most important thing in life is to learn how to give a good blow job.
Jamie is 16 years old. She's at a stage in life where figuring out her sexual desires and finding relationships in which she won't be exploited is difficult enough. At least the news about her baptism comes in useful when she needs an excuse to go church, having met a boy who's training to become a priest. Could he be useful experimental material when it comes to the second part of Dotty's advice? Perhaps she should have more respect for his vocation. Perhaps he should think through what he's about to do. But they're teenagers and teenagers screw up, and that's really what this film is about.

King is unusual among actresses her age. Her role is scripted in fairly conventional fashion but she brings a lot more character to it than might be expected - one only hopes that her expressive face is not sacrificed to botox when she hits her thirties. She has fantastic comic timing and is aided here in a couple of key scenes by the similar skills of Logan Medina, who plays her little brother. Jack Kilmer is a bit on the bland side as the object of her desires, making it hard to see why she gets as excited as she does, but the presentation of the relationship itself is well observed. Neither party comes across as wholly sympathetic. There's a pleasing realism in the depiction of youthful sexual urges, far removed from the 'healthy people don't feel this' attitude that has blighted otherwise good films like Easy A.
Jamie is confident without always getting it right, spirited without always being brave. We've been here before, but it remains important (and too rare) to see girls her age portrayed this way. She's a character whom many teenagers will find it easy to relate to. The family story going on in the background is underdeveloped but her selfcentredness means this doesn't matter too much - she dips in and out of other people's lives whilst trying to get to grips with her own.
The film is prettily shot and even incorporates a car chase of sorts to help it pick up the pace towards the end. Though not always convincing, it's well paced and adequately entertaining, and it's effective in taking a light-hearted look at some difficult issues.
Reviewed on: 22 Sep 2018
Share this with others on...