Eye For Film >> Movies >> Shield Of Straw (2013) Film Review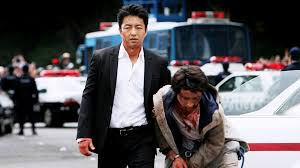 Quite what such mega-plex fodder as this action thriller is doing as part of the Cannes Film Festival's Competition is anybody's guess. It has Hollywood remake written all over it.
Dealing with a police team charged with escorting a child killer with a billion yen bounty around his neck, the film certainly has some spectacular set-pieces, notably a huge convoy of armed vehicles and police cars proceeding in formation down a four-lane highway only to be over-run by a tanker driver bludgeoning his way through them.

There is also a bout of mayhem aboard a high-speed train as traitors and unlikely suspects emerge from the ranks to make their bid for the booty.
Takashi Miike whose previous films have ranged from violent horror to samurai subjects, knows how to milk the premise although he did not convince most of the critics who greeted it with a mixture of cheers and (in the majority) boos.
Adapted from a novel by manga artist Kazuhiro Kiuchi it maintains the momentum and is eminently watchable for those in the mood for simplistic fare who are prepared to suspend disbelief.
Interesting subjects such as corruption in the police force and among Government officials receives scant investigation but would have given the slim proceedings more rigour.
Thierry Fremaux, the festival's artistic director, has defended his choice, likening Miike's style to the kind of commercial fare undertaken by those such as Howard Hawks in the Forties and Fifites from which were extracted some moments of artistic worth.
Worth admiring are the performances of Takao Osawa as Mekari, a cop with principles still grieving over the futile death of his wife, and Nanaku Matsushima as his ambitious colleague Shiraiwa, a single mother who views the assignment as a potential shortcut to promotion.
Reviewed on: 21 May 2013
Share this with others on...