Eye For Film >> Movies >> Start With Half (2019) Film Review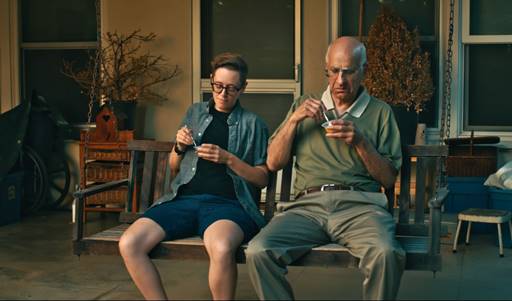 Start With Half is a short, charming little film about the therapeutic effects of pot (cannabis).
Did I say short? Yes, by the time you include introduction and closing credits, the entire film occupies little more than five minutes. Its central narrative: an elderly conservative man suffering from some unspecified illness finds himself brought closer to his queer grandchild after they introduce him to hash muffins.
The central narrative – that cannabis can be useful in treating illness – is unashamedly partisan. But given the decades during which cannabis was the drug whose name no-one dared even mention, one might agree it deserves a little belated love.
A two-hander featuring George Wyner as ailing grandad and Petey J Gibson as helpful grandchild, this is really a cure in two halves. First the muffin, then the munchies – and ice cream.
Neatly written and directed by Nathaniel Katzman.
This is a morality tale or parable in two acts. In the first half we have conflict, tension and fearfulness: an old man, rendered less by a wasting illness – perhaps Parkinson's, perhaps something other. Sceptical of his granddaughter's solution. Not entirely happy with the thought that by reaching out for this solution he becomes a law breaker.
Reversal too, as although he is the supposed grown-up in the room, it is he who is acting the part of reluctant child, his granddaughter leading him gently by the hand towards some relief, and reconciliation.
No grand gestures, just an old man and a young relative coming together over ice cream and shared humour.
This is a beautiful, self-contained short: a good idea, well executed. A great scene from a longer film. More from this director would be good. Although, as this is his first film since Losing It (2015), we may be a while waiting.
Reviewed on: 13 Mar 2019
Share this with others on...