Eye For Film >> Movies >> Stagecoach (1939) Film Review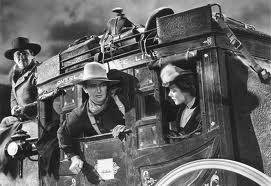 The Hollywood myth that Marion Morrison (aka John Wayne) became an overnight success when director John Ford plucked him from obscurity to play The Ringo Kid in Stagecoach is stretching it. The year was 1939. Wayne was 32 years old and this would be his 70th film.
What is true, however, is that it changed his status from B-movie actor to international star. Ford liked to keep his team together as much as possible and they went on to make 11 movies together, including The Quiet Man, She Wore A Yellow Ribbon and The Searchers.

Peter Bogdanovich calls Stagecoach "the first adult Western," due to the intimacy Ford brought to his characters. Before this, horse operas were shoot-'em-up actioners, in which gals made coffee and guys rode flat out over rocky terrain, guns ablaze.
The story is simple enough. A disparate group find themselves on the stagecoach to Lordsburg, each for a different reason. Heavily pregnant (you don't notice until half way through when a baby pops out) Lucy Mallory wants to join her husband, an officer with the US cavalry. Mr Hatfield, a professional gambler, who dresses like Count Dracula, leaves a poker game after one look at the lady and leaps aboard.
Doc Boone and Miss Dallas are somewhat in a similar pickle; both have been forced out of town, he for being an alcoholic and she for being a prostitute. The pompous, autocratic bank manager Mr Gatewood is on the run from his domineering wife, with the bank's assets in his Gladstone bag. As for the diminutive Mr Peacock, he has been encouraged to join the party by the doc; he's a whisky salesman, with a case full of samples.
Buck, the stagecoach driver, is a good natured, well-rounded fool and, riding shotgun, is Curly, the marshal, complete with crinkly, ill-fitting wig. En route, they are held up a horseless jail-breaker, The Ringo Kid, who is on a mission of revenge. Far from being a natural born killer, he displays admirable qualities and is particularly attentive to Miss Dallas.
One of Ford's trademark attributes is his concern for character - look at The Man Who Shot Liberty Valance; it's all character. Even the smallest roles are fleshed out with distinguishing detail. No one ever stands around like a dummy when they are not talking. The screen is alive with human activity, both emotional and actual, and humour is seldom far away.
As usual, for Westerns of the period, the Red Indians - sorry, Native Americans - are the enemy, in this case Geronimo and his mob. Will the stagecoach get through without being attacked by these blood-curdling scalp thieves?
The film is a template for disaster movies and strangers-trapped-in-a-train scenarios. It stands up superbly, with excellent performances from Thomas Mitchell, as Boone, and Andy Devine, as Buck. Wayne's presence dominates with a quiet strength and Claire Trevor, as Miss Dallas, avoids the faintest suggestion of sentimentality.
Ford's final stroke of genius is setting up a shootout between The Kid and the brothers who murdered his family, and then not showing it. That's like remaking Gunfight At The OK Corral from the point of view of a bartender, who wasn't there.
Reviewed on: 05 Dec 2004
Share this with others on...