Eye For Film >> Movies >> Somersault (2004) Film Review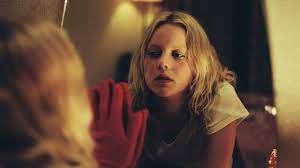 After being caught in bed with her mother's sleazy boyfriend 15-year-old Heidi (Abbie Cornish) takes a one-way ticket to the ski resort town of Jindabyne. Her plan to hook up with an acquaintance falls through and she is forced to live by her wits and burgeoning sexuality. Soon she has a job at a service station and a cheap place to stay. Then she meets a young farmer, Joe (Sam Worthington), and starts to experience deeper feelings of love. But, wary of what his friends will say, he remains non-committal, with near-tragic consequences...
With this synopsis, it's hard to avoid a sense of deja vu: Oh, no, it's another coming-of-age story, focussing on a sexually precocious, troubled adolescent.

Yet, writer/director Cate Shortland's debut feature soon overcomes any initial misgivings. Almost everything about the film just feels right.
The writing is incisive and insightful, capturing the confused emotions of the characters and the stultifying nature of small town life perfectly. The direction likewise is assured and sensitive, with an keen eye for composition and a sense of when to use, and not use, specific techniques. Thus, the only awkwardness in evidence is integral to the material itself, with solid performances throughout the cast and Cornish deserving of especial praise for the complexity and believability she brings to the opportunistic, yet vulnerable, Heidi.
Visually the film is truly beautiful, cinematographer Robert Humphreys alternating between impressionistic brush strokes a la Chris Doyle and candy-coloured lighting effects reminiscent of Mario Bava at his most baroque.
If there's perhaps a slight sense of issue-of-the month about the supporting characters - do we really need a kid with aspbergers, a woman whose son is in prison for murder and a recently bereaved gay guy? - this is counterbalanced by the wintry resort locale, about as un-Australian as one could imagine.
All told, a debut that augurs great things for the future.
Reviewed on: 27 Aug 2004
Share this with others on...