Eye For Film >> Movies >> Seven Sinners (1940) Film Review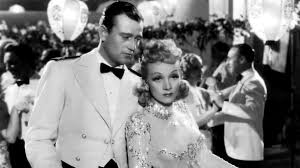 Tay Garnett's lightweight but diverting comedy starts as it finishes - with Dietrich's sultry and flirtatious cabaret singer Bijou facing deportation from yet another south-east Asian island following an extravagant brawl that has wrecked the Seven Sinners bar in which she was performing.
Not much changes in between these two fights (the second of which involves pretty much the whole cast and more besides in a frenzy of flying bodies and splintering balsa wood furniture). She meets John Wayne's handsome Navy officer and flirts briefly with the idea of marrying him, and spends the rest of the film's running time fending off the advances of a variety of men including a burnt-out alcoholic, a sinister knife-thrower and a shifty card-sharp.

However, despite the seedy, lowlife cast of characters, there's never any real sense of danger or threat, and nothing that transpires feels as if it's of any real importance. Instead, Garnett plays the thin material primarily for good-natured laughs, which by and large keep things moving when nothing of dramatic interest is going on.
John Wayne, who always seems a little more stiff and awkward than usual when stripped of his cowboy hat, six-shooter and horse, is cast in perhaps his least interesting role, often reduced to simply a bland onlooker and near-perfunctory love interest. In fact without his stature, presence and charisma, it would be a complete mystery as to why a woman with as many offers (and talents) as Bijou would get so excited about spending her life with someone quite so dull. Still, Wayne is never less than watchable, and even though his scenes are among the most poorly written and conceived in the film, he manages to emerge relatively unscathed. The rest of the supporting cast, meanwhile, mug and pratfall in a way that might have been more amusing had the script and the jokes been better, but which fortunately never becomes so self-indulgent or daft as to be simply annoying.
The film, though, essentially belongs to Dietrich. Marlene Dietrich was one of those actors whose very appearance could make even shallow, undemanding fluff such as this worth watching. Her remarkable sense of a scene's tone elevates the material whenever she appears, and the scenes in which she is absent suffer noticeably by comparison. The producers had clearly seen the celebrated films she made with von Sternberg and decided to simply allow her to do what she does best.
Not only does she get to slink about, singing before adoring officers in an impossible array of dresses and outfits (including an officer's uniform complete with tie and cap), but the film also functions as a vehicle for her considerable talents as a comedienne. As charming and deft in her delivery of lines as in her parrying of those fed to her, she perfectly captures Bijou's mischievous yet playful nature, delighting in the trouble she causes whilst relishing the notoriety which follows it.
All in all, Seven Sinners is one of those corny, gently amusing comedies which has improved with time. Instead of dating the picture, the passing of years has given it a naïve charm which it probably didn't possess when it was released, and which helps to disguise the impoverishment of the superficial script. In the end, it is simply an inoffensive and forgettable film, which meanders along pleasantly without ever threatening to end up anywhere particularly interesting.
Reviewed on: 03 Jan 2007
Share this with others on...